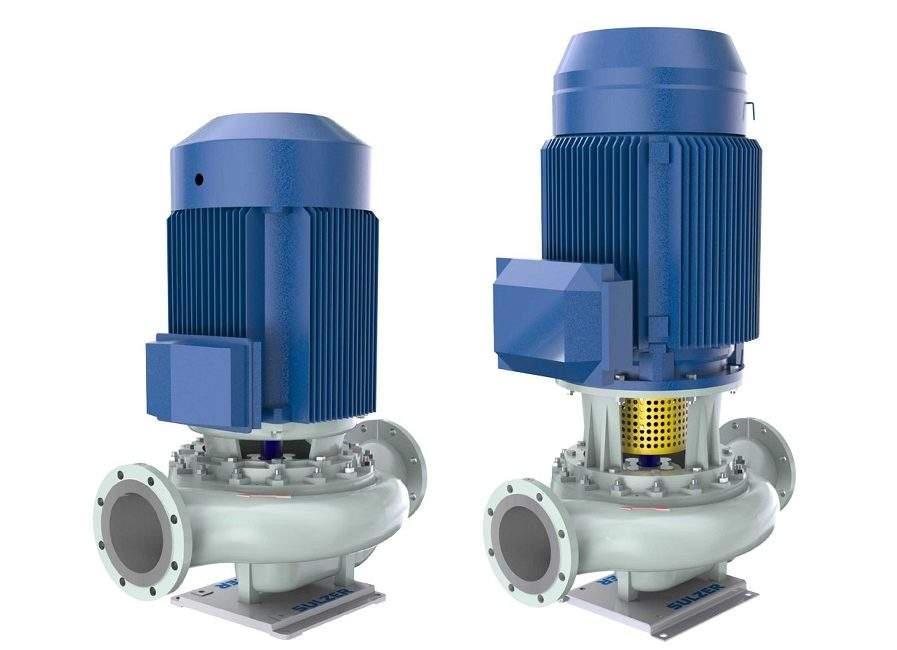 The SIL pump range is ideal for pumping mainly clean and slightly contaminated liquids, viscous liquids up to 250 cSt, and fibrous slurries up to a consistency of 1%. The hydraulic design ensures efficient pumping with a low NPSHr (net positive suction head required) across the whole pump range.
The inline design together with the monoblock construction makes the SIL pump compact, rigid and reliable. The pump is available either with an integrated motor or with a standard IEC motor. SIL pumps are easy and fast to install both in vertical and in horizontal positions, and they require only a small installation space.
SIL inline pump range
The monoblock design SIL pumps are available with integrated or IEC motors.
The SIL inline pump range fulfills the efficiency regulations across all industries, as well as the design requirements of the ISO 5199 international standard. For the customer this means substantial savings in the total lifecycle costs and a reduced environmental footprint.
Premium efficiency
The SIL pump exceeds the European Union's requirements for energy-related products (ErP). These regulations specify the minimum efficiency values for water pumps, with the target of reducing the energy consumption. The entire pump range exceeds the MEI 0.4 (Minimum Efficiency Index).
Synconta Pump Red Dot
MEI, the minimum efficiency index for standardized water pumps, was set to be ≥0.4 as of the beginning of 2015. This means that at present 40% of the pumps on the market do not comply.
Sulzer's SIL pump range fulfills the requirements of ErP and of all other industrial efficiency regulations.
True reliability
The monoblock construction of the SIL pump range eliminates the need for a bearing unit. This solution minimizes the number of wearing parts and the need for maintenance.
The optimized shaft sealing chamber and impeller balancing holes guarantee improved conditions for the shaft seal and maximize its life time.
The impeller is designed in tandem with the casing and sealing chamber. This design results in efficient hydraulics with reliable shaft sealing, ensuring high reliability. The closed impeller is designed to suit versatile liquids, maximizing standardization and minimizing the need for spare parts.
Minimized total cost of ownership (TCO)
The installation, operating, and spare part costs of the new SIL pump range are low, as are the downtime costs thanks to the minimized need for maintenance of the trouble-free monoblock construction. If needed, the back pull-out design allows quick access for servicing without detaching the pump from the piping.
Due to the high efficiency of the SIL pump range, its energy consumption is low. Together these qualities of the new SIL pump reduce the total cost of ownership to the benefit of the customer.