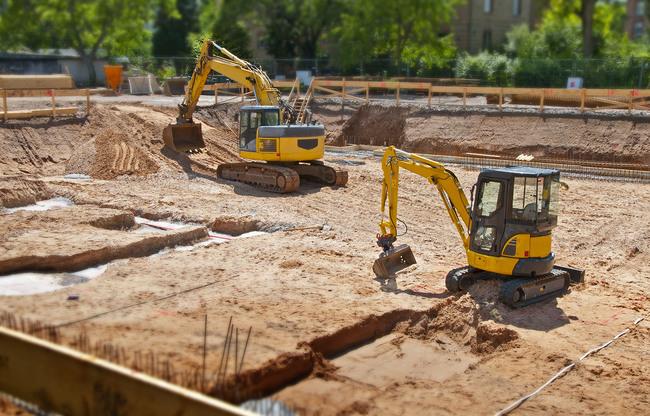 GIW Industries is the leader in the design and manufacture of heavy-duty centrifugal slurry equipment, pumps and parts. The company is expanding its REGEN Service Centre in Fort McMurray, Alberta, Canada, to meet the growing needs of the nearby oil sands industry.
Construction is progressing despite the frigid temperatures experienced recently. GIW hopes to see stock moving into the expansion by June.
A typical hydrotransport pump can have individual components that weigh up to 37,000lbs. Larger pumps and parts also require more mechanical service work and staging space.
To ensure that oil sands customers get the local service they need, the GIW Centre is expanding from a 19,000ft² to a 29,000ft² climate-controlled building, with an additional half-acre outdoor stockyard. The expansion will provide a larger and more efficient area to meet the expanding oil sands market's slurry needs.
More than just pumps
In addition to installation, commissioning and maintenance supervision, the centre will provide in-house inventory and repair, maintenance inspection, system efficiency services, technical consultancy, training and retrofit services.
GIW's goal is to ensure that parts are on-hand and available when needed, to protect customers against unexpected downtime. To meet this goal, the facility sometimes houses more than $8m worth of inventory and accepts two dedicated stock trucks every week and contract trucks, as needed. GIW also consistently tracks each customer's projects to maintain an inventory level that anticipates their maintenance needs.
The facility is also equipped to handle repairs. Rebuild capabilities include in-house service technicians who assemble to original equipment manufacturer's specifications and standards. To ensure the cleanest possible rebuild, the facility houses a dust-free clean room environment for bearing installation and final assembly.
The Fort McMurray REGEN Service Centre's expanded capabilities will include servicing of more than just pumps: GIW is proud to be an authorised RENEW facility for Falk-Rexnord Canada, offering repair services for gear reducers and related drive equipment.
The service centre is also equipped to handle the challenges of remote customers. GIW understands that because of the remote location of the oil sands, it's time-consuming and expensive to ship equipment back to the manufacturer for maintenance that could potentially be performed on site. This is why Fort McMurray provides local experts who are on call to diagnose problems and repair or refurbish parts on site, as needed.
A rich history in hydrotransport
GIW has been providing slurry expertise to the oils sands industry since the mid1980s. GIW was instrumental in pioneering the switch from rubber-lined pumps to hard metal pumps, that allowed more than double the wear life in tailings applications. After this success, the industry began to consider using all-metal pumps for hydrotransport; a new technology at the time that aimed to reduce the costs of mining oil-sands deposits.
GIW engineers tested tailings sand from the mine in their hydraulic testing laboratory and proved that this was a more efficient and less costly means of long-distance transport. The current oil sands boom has resulted in larger mines located further away from the processing plants, making GIW's contribution to the industry even more significant.
In addition to the Fort McMurray location, GIW has REGEN Service Centres located in Thomson, Georgia, Mulberry, Florida, and Hibbing, Minnesota. These service centres assemble new pumps, store inventory, rebuild and service existing pumps, and offer a wealth of other service activities. All GIW equipment is rebuilt to last and all installed parts and workmanship carry the standard GIW warranty. REGEN Service Centres are certified to ISO 9002.
At GIW, we're always working to help our customers achieve their maximum production potential. We...