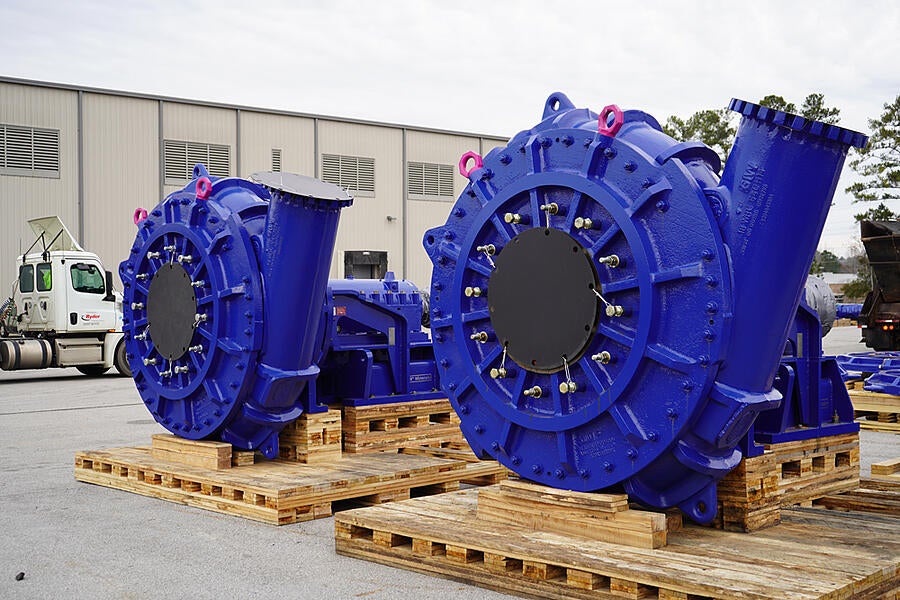 KSB has long led the mining industry with its line of GIW® slurry pumps, which are designed to meet the application-specific needs of its customers. These pumps frequently solve problems shared by many in the industry, allowing for the translation of custom designs into full product lines for the benefit of many customers.
Responding to customer demand for larger slurry pumps, KSB is designing and manufacturing pumps that are bigger and more energy-efficient — all in the name of sustainability.
Recognizing a need for larger pumps
Partnering with customers builds close working relationships, which fosters open communication from customers regarding current pump performance, and how a different solution may better meet their present and growing needs. According to Jonathan Samuel, President and CEO of GIW Industries (A KSB Company), "As the head grade of ores drop, customers have to process more and more ore to have a greater yield."
When customers come to KSB with these needs, it spurs the production of larger pump models, and KSB is one of the few companies able to design and successfully produce models of the necessary size. With a comprehensive understanding of what drives the need for larger pumps — and a strong sense of responsibility to the environment — KSB engineers slurry pumps with energy efficiency and sustainability in mind.
Energy efficiency in pumps
Designing and manufacturing pumps for energy efficiency requires the highest quality materials, expertise acquired from long experience, and continuous research and development. Ongoing R&D allows for consistent improvements in wear technology and hydraulic design for maximum pump efficacy and efficiency. Mechanical design improvements are aimed at increasing pump efficiency while decreasing energy consumption. Energy conservation is increasingly critical, so there is a consistent goal for more efficiency in slurry transport.
Sustainability
Designing and manufacturing energy-efficient pumps is only the beginning. High-quality materials, sustainable production processes, and alternative energy solutions help to complete the picture. KSB is doing its part by buying back white iron scrap to melt down and reuse in the manufacture of new slurry pumps. It also offers services to refurbish old equipment, which is a cost-saving and sustainable solution.
Tailings management is also a growing concern as tailings ponds increase in size. In response to customer interest, KSB is exploring the possibility of developing equipment to assist with a dry process for stacking tailings. Dry stacking would conserve water, time, and fuel by eliminating the need for water transport. In the meantime, KSB designs, manufactures, and maintains the most effective pump options for moving the large volumes of water necessary for tailings dewatering.
KSB manufactures products with energy efficiency and sustainability in mind. Good policies and procedures for recycling, materials sourcing, energy efficient design, maximum wear life, and continuous improvement work together to cut costs for customers and offer sustainable solutions for the mining industry.
Pumps, valves and service: we are your partner for the entire product lifecycle.
This presentation will help you learn more about slurry pump types, what materials suit each pump best, and how to find the right type.
Industrial settling slurries often consist of particles of very different sizes; the particle size distribution may cover sizes, which differ with two orders of magnitude.