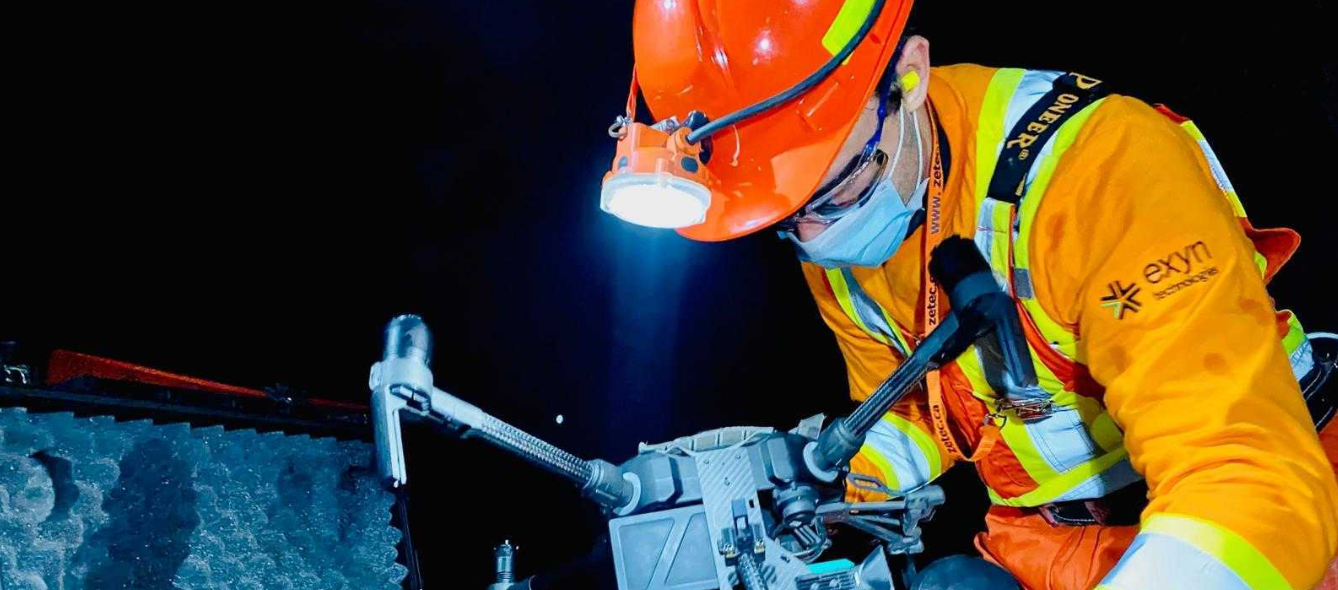 Exyn Technologies, a pioneer in multi-platform robotic autonomy for complex GPS-denied environments, and NSS Canada, a mining industry supplier dedicated to innovation, have expanded their footprint with Jaguar Mining in response to a growing demand for autonomous robots to capture critical data in complex, GPS-denied environments underground.
"We are thrilled to deliver innovations that help reduce risk to humans and increase efficiency and productivity in mining operations," said Raffi Jabrayan, Exyn's VP of Commercial Sales and Business Development. "Our technology can do in a few minutes what traditionally took hours, with countless risks to surveyors working in potentially dangerous environments."
"NSS Canada is proud to provide innovative solutions to help underground mines like Jaguar Mining Inc. safeguard employees while optimizing efficiency. The addition of Exyn autonomous solutions will help their team improve OPEX, increase safety, and get actionable data from dangerous environments faster," stated Bruno Lalonde, NSS Canada President.
Historically, mining in geographically complex areas has been dangerous and intensive in terms of labor, time, and cost. The evolution of autonomous aerial robots provides mining companies with faster and safer data capture in critical underground operations leading to more streamlined planning and workflows. After a successful demonstration at the Caeté mining complex (which includes the Pilar and Roça Grande mines and the Caeté Plant, is located in the state of Minas Gerais, Brazil), Jaguar Mining made the decision to purchase Exyn's autonomous robot, the ExynAero, to be used as a cavity monitoring solution in their underground mining operations.
The ExynAero is a fully autonomous aerial robot that intelligently navigates and maps complex GPS-denied industrial environments without a pilot, keeping employees safe, and maximizing beyond-line-of-sight-and-communications data collection. Equipped with Autonomy Level 4 – the highest in the industry – survey teams can confidently send the ExynAero on autonomous missions into open stopes and and other underground cavities knowing that all computation and data collection is stored on-board. Then using Exyn's robust post-processing pipeline, survey teams can refine, subsample, and georeference their data sets for volumetric calculations and other mining operations.
"The introduction of Exyn autonomous technologies at Jaguar Mining is another step towards our commitment to quality, by increasing safety, operational efficiency and cost effectiveness in our underground operations," said Eric Duarte, Vice President of Operations for Jaguar Mining.
Jaguar Mining's adoption of Exyn systems further supports Exyn's global mission to facilitate a safer and more efficient mining experience. Exyn Technologies will be at CIM 2023 this year at booth #1126 where one can interface with both the team and the products – including the ExynAero DJ4 and handheld ExynPak – first hand. To learn more about Exyn Technologies, visit: https://www.exyn.com/.
About Exyn Technologies
Exyn Technologies is pioneering multi-platform robotic autonomy for complex, GPS-denied environments. For the first time, industries like mining, logistics, and construction can benefit from a single, integrated solution to capture critical and time-sensitive data in a safer, more affordable, and more efficient way. Exyn is powered by a team of experts in autonomous systems, robotics, and industrial engineering, and has drawn talent from Penn's world-renowned GRASP Laboratory as well as other storied research institutions. The company is VC-backed and privately held, with headquarters in Philadelphia. For more information, please visit www.exyn.com.
About Jaguar Mining Inc.
Jaguar Mining Inc. is a Canadian-listed junior gold mining, development, and exploration company operating in Brazil with three gold mining complexes and a large land package with significant upside exploration potential from mineral claims. The Company's principal operating assets are located in the Iron Quadrangle, a prolific greenstone belt in the state of Minas Gerais and include the Turmalina Gold Mine Complex and Caeté Mining Complex (Pilar and Roça Grande Mines, and Caeté Plant). The Company also owns the Paciência Gold Mine Complex, which has been on care and maintenance since 2012. The Roça Grande Mine has been on temporary care and maintenance since April 2019. Additional information is available on the Company's website at www.jaguarmining.com.
About NSS Canada
NSS Canada is committed to developing key relationships with industry partners that focus on innovation, allowing us to provide the most efficient, accurate and innovative, connected solutions to our customers. We bring the best mining technology together for our customers. More information can be found on the Company's website at https://www.nsscanada.com/.