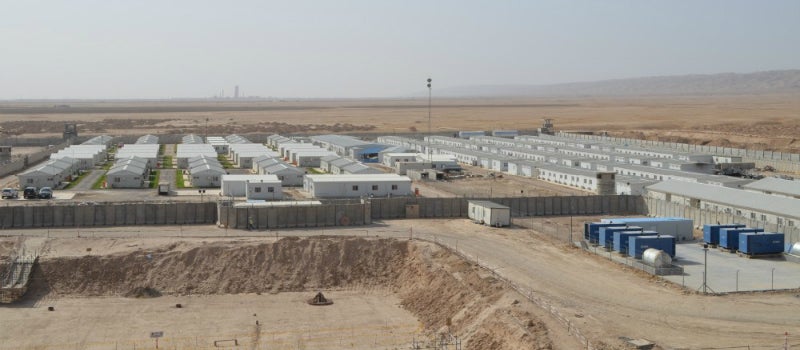 PIRAZIZ International Service Solutions, part of Hekim Holding, is a foreign trade company providing temporary and permanent man camp services for any region. Our specialised and experienced staff can deal with any climate and everything from remote regions to city centres.
Our strong business relationships and joint ventures with associated trades allow us to offer our clients turnkey projects from one source. Our services include the supply of prefabricated modular panel buildings, containers, pre-engineered buildings for man camps, workforce housing for the mining, oil and gas sector, construction sector, military organisations and relief organisations.
Prefabricated camp buildings for mining projects
Our manufacturers have significant experience and knowledge designing, engineering and manufacturing temporary or permanent camp accommodation (man camps) and multipurpose buildings with the destination region in mind. Piraziz has provided buildings for more than 60 countries worldwide and has a 60,000m² monthly capacity.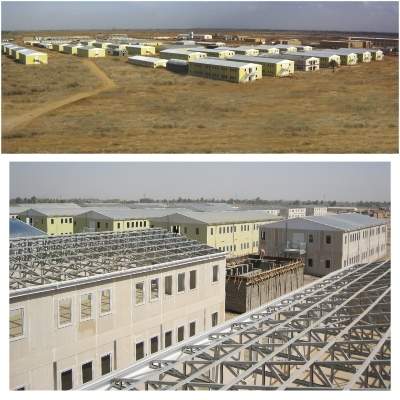 Oasis – dwellings for 4,000 people (32,500m² single and double floor prefabricated structures), Baghdad, Iraq.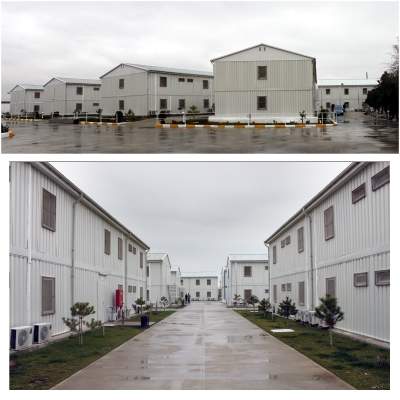 Polimeks construction - 50,000m² single and double floor prefabricated structures, Turkmenistan.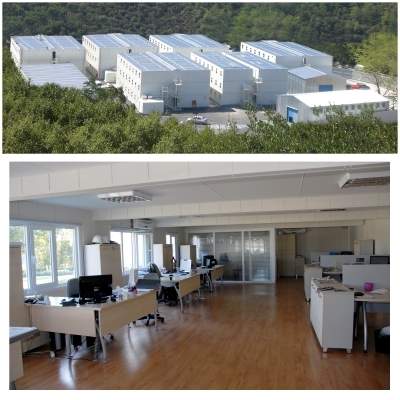 Akturk construction – man camp for 2,000 people. Three-storey container buildings, Istanbul, Turkey.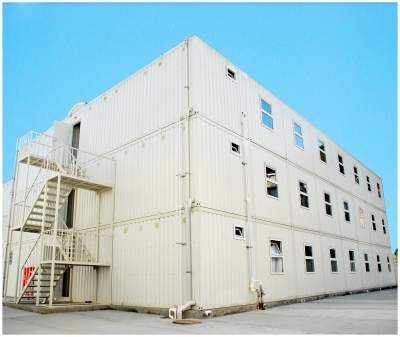 Three-storey container buildings for limited areas.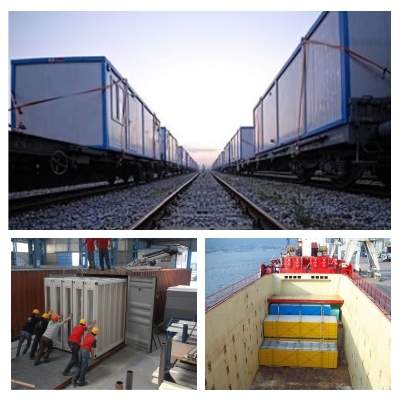 We have considerable experience loading and transporting goods in a range of ways.
Our products use high-quality galvanised lightweight steel profiles, and utilise unwelded structure technology (UST), an advanced building technique.
Our prefabricated buildings come in a wide variety of standard layouts, and we can also create custom structures to your requirements. We provide:
Dormitories (labour and staff)
Site offices
Kitchen and dining facilities
WC and showers
Social establishments (such as an infirmary, guest house or prayer room)
In addition, we offer projecting and consultancy for site management, which includes site analysis, preparation, landscaping and transportation, as well as demounting and erection work onsite.
Demountable, flat-pack containers for man camps
Containers can be manufactured as single, two or three-storey combinations depending on requirements. Piraziz has a monthly capacity of 2,100 pieces. Uses include:
WC and showers
Offices
Dining halls
Dormitories
Health centres
Post-disaster lodgings
Pre-engineered buildings
Pre-engineered buildings such as warehouses, stores and workshops can be manufactured with or without insulation, depending on your needs, using structural and lightweight steel. Standard layouts are built with a 10m span and an integral multiple of 10m.
Industry-recognised certificates and standards
Piraziz holds the following certificates and standards:
ISO 9001:2008
ISO 14001:2004
ISO 18001:2007
Fibrecement gost fire resistance certificate
Wall panel gost fire resistance certificate
Service adequacy certificate – Institution of Turkish Standards
CE for fibrecement boards
Prefabricated modular system camp buildings and services
We will be happy to discuss your requirements, and our considerable knowledge and experience in the sector will allow us to develop a solution that ideally meets your building needs. If you would like to know more or find out what we can do for you, please use the contact details below.
Some of our references:
BP/MOT MACDONALD – camp buildings (144 pcs 48m² accomodation containers), Basrah, Iraq – 2009
OASIS – dwelling base of 4000 people (32,500m² single and double floor prefabricated structures), Baghdad, Iraq – 2010
BOUYGUES – 24,000m², several camp buildings in Turkmenistan, Burkina Faso, Congo and Equatorial Guinea
FEKA CONSTRUCTION – camp buildings ( 16.900m² prefabricated structures), Afghanistan – 2009/2010
ECOLOG – several containers for Iraq and Afghanistan – 2004/2012.