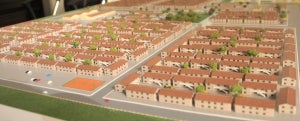 Baghdad is in the process of reconstructing massively destructed regions from war times and Karmod prefabricated ready-to-use houses were preferred in Iraq's rebuilding efforts. Ministry of Industry and Minerals funded the first phase of the social housing project in order to handle housing problems in the aftermath of the invasion.
The first phase consists of 400 double storey prefabricated residential buildings each with four apartments. Total building area of the first phase of the residential housing project is 70,000m² in addition to 15,000m² of social facilities, which includes a school, hospital, mosque, shopping center and police station. Prefabricated houses are being produced in Karmod's modern facilities located in Istanbul, Turkey, and 50,000m² of the project has been shipped to Baghdad via land transportation during the last five months.
Playing a role in many national and international residential housing projects, Karmod produces 1,000m² prefabricated houses daily in its 21,000m² production facility of a total. The size of prefabricated panelised buildings varies between 50m² and 150m² and customised projects provide customers with great flexibility in arranging their layouts. Load bearing walls that are built using steel modules occupy little space and enable efficient usage of the building area. Compared to conventional houses, prefabricated steel buildings are more economical and they allow more savings with their shorter construction period. Prefabricated modular buildings are widely preferred in emergency housing, post-disaster relief efforts, refugee camps and low cost social housing projects.