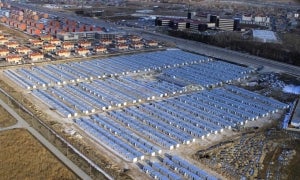 Following the earthquake in Van, Turkey, which caused massive destruction in the region, Karmod Prefabricated Building Technologies contributed 500 mobile container homes as well as prefabricated houses and modular office cabins to the city's rebuilding efforts.
The Disaster and Emergency Management Presidency of Turkey thanked Karmod for delivering the emergency accommodation containers to the earthquake zone earlier than the planned date. The city now has a school, social facilities, sanitary units and other facilities that earthquake victims need.
Karmod Prefabricated Building Technologies is one of the leading manufacturers of prefabricated buildings, portable containers and modular cabins and has exported to more than 70 countries. Karmod has been involved in many large-scale modular workforce camp and emergency accommodation camp projects for mining, defence, government and construction sectors.