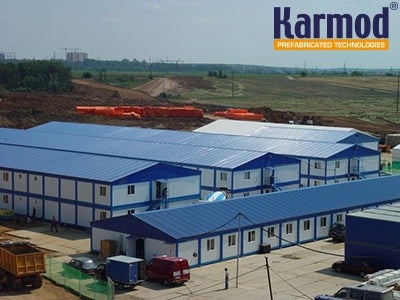 Karmod has started constructing a temporary prefabricated camp consisting of administrative and workforce facilities in Shah Deniz Gas Terminal Phase 2 located 70 km south-east of Baku, Azerbaijan.
The gas reserves, the largest of Azerbaijan, were discovered in 1999 and are now operated by BP. Prefabricated camp facilities include flat pack container buildings as well as panelized structures constructed using prefabricated modules and the total building area of the prefabricated mining camp is 10,000 m².
The production of flat pack container buildings, occupants of which will be administrative personnel, technical teams and other workers, has finished and the installation of the buildings is in progress. These temporary buildings, including administrative offices, technical offices, dining hall, kitchen, toilet and shower units and storage units, have a mountable/demountable nature and were erected in a short period of time.
The second phase of the prefabricated mining camp project involves a 2,140m² administrative office building and the panels were manufactured in Karmod's modern facilities located in Istanbul, Turkey. Karmod's expert installation teams have just started the construction of the modular office building. Designs and contracts of other prefabricated panelized buildings and pre-engineered steel buildings for the natural gas processing plant are being finalized by the owner, consultant firm and Karmod.
Karmod off-site production methods allow faster modular building construction without sacrificing aesthetics. Prefabricated modular structures and portable buildings serve diverse markets, including military, residential, commercial, healthcare, education and government. Modular and portable buildings offer significant advantages over the conventional ones, including:
Shorter construction time;
Reduced site disruption;
Light-weightness and resistance to earthquakes;
Financial savings; and
Flexibility of space usage.
For further information on the prefabricated mining camp facilities supplied by Karmod please call 0090 532 155 6600 or visit www.karmod.eu.