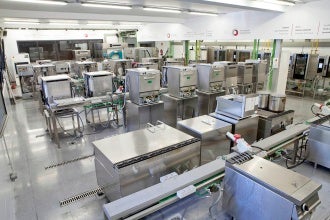 Did you know that Fagor Australasia differs from the competition here in Australia in one major way?
The company is a manufacturer; not a reseller, not a dealer, not an importer but the Australian factory office of Fagor Industrial. It has a unique position in the Australian market as the only major European brand with direct representation and a factory office in Australia that can offer a full range of cooking, dishwashing, refrigeration, combi ovens and food holding equipment.
For valued clients and customers in Australia, this means that Fagor can supply quality, innovative products that are at the cutting-edge of the professional sector, to suit any commercial catering needs, no matter how big or small the project is, at very competitive prices. By dealing directly with Fagor and omitting middle man costs, the company can offer an international class product at the very best value for money. Fagor customers demand the best products at the very best prices and this is what the manufacturer provides.
Fagor is in contact with its colleagues in the factories on a daily basis, so can provide customers with the answers to a myriad of questions and draw on this strong team of professionals whenever required. As the manufacturer, the company has an extensive knowledge about its equipment, its functions, its capabilities and its strengths, after all, it makes the equipment. This allows it to add value to customers' purchases with design input and advice, when appropriate, and to also customise equipment.
Fagor uses the knowledge gleaned from its varied and wide global exposure to help provide customers in Australia with equipment solutions to meet their requirements. The company prides itself on reacting to customers' requests and providing Fagor products to meet these individual needs.
The Fagor Australasia office also benefits from being part of an international company with more than fifty years of experience developing and producing quality commercial equipment. As a manufacturer, one of its objectives is to be a leader in innovation, quality and reliability.
In order to achieve this, Fagor has state of the art research and development laboratories at its plant in Onati, Gipuzkoa (Spain). These laboratories are equipped with all the appropriate equipment needed to verify and develop the high technological level that the company demands for all of its equipment.
The 700m² laboratories incorporate a development lab, a reliability lab, a certification lab, a technical support service training area and a transport and packaging analysis area. These laboratories help the company to deliver the right products to suit customers' individual needs, time and time again.
All sales, servicing, technical enquiries and after-sales service for Fagor equipment throughout Australia is overseen by the factory office; one phone takes care of everything. Its extensive warehouse in Australia is ready to deliver its range of products and spare parts direct to the customer's chosen location. Fagor really does provide one brand, one solution.
---
Image: Fagor is the manufacturer of its own range of products. Photo: courtesy of Fagor.
Fagor Australasia Pty Ltd has launched a brand new website at www.fagor.com.au.This new website is...