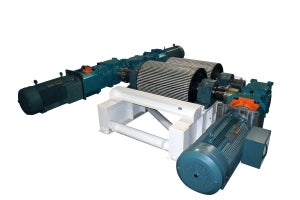 West River Conveyors now offers Variable Frequency Drive (VFD) electrical equipment from the complete System Controls, Inc. product line. VFD starters can be utilized to control all West River drives — ranging from the smallest horsepower unit to the largest necessary — in dual, triple, and quad applications.
The VFD starters are frequently used in booster drive applications, and we are pleased to provide this expanded capability to our customers! West River is also proud to announce that the Triple 500HP VFD belt drive and alignment-free belt drive was added to its product line. West River remains dedicated to excellence in building quality, technical, state-of-the-art products while maintaining a strong focus on customer service.
West River Conveyors recently completed the shipping and installation process of a 1,000ft overland conveyor...