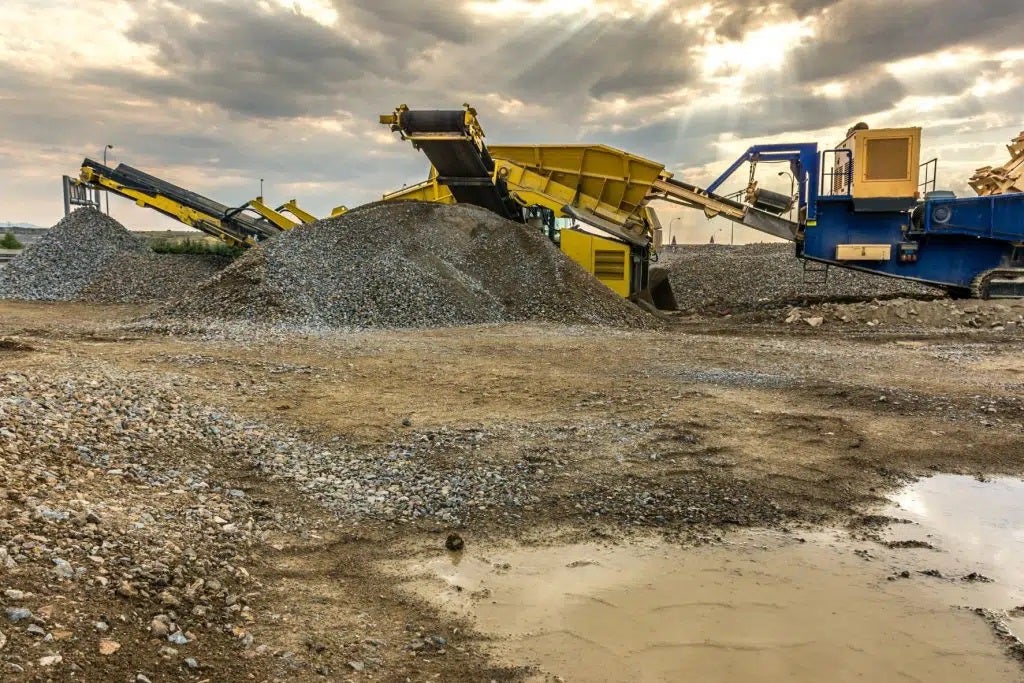 If you're planning a heavy construction project that requires transporting bulk materials, you've got a decision to make conveyors vs. trucking & hauling. The best choice may not be obvious and will depend on your project specifics, materials, and terrain.
Haul trucks may seem tempting due to their lower initial cost. But, in many construction situations, they quickly reach their limits. Your project might be better off with a different option for earthmoving: conveyors.
Two insightful reasons to use a conveyor for your next construction project
Heavy construction takes serious planning. Keep the big picture in mind as you estimate the costs of moving bulk materials.
For large earthmoving projects, the cost of a conveyor system is often less than trucking & hauling. However, uncovering the total cost of transporting materials isn't always straightforward, nor is the impact on scheduling and resources.
Let's explore two very practical reasons to use a conveyor for heavy construction projects.
1. Business impacts – dodge the ongoing truck driver shortage
Haul truck drivers have become harder to find as the economy snaps back from the COVID-19 pandemic. The shortage is making it more challenging to move dirt, sand, gravel, and other materials on time.
Thanks to the industry's labor crunch, putting more trucks on the road to speed progress isn't an option anymore. Conveyors, however, can operate 24/7 with a far smaller workforce.
Project managers can reduce the dependence on truck drivers by opting for conveyors vs. trucking & hauling. You can't possibly replace all truck drivers with conveyors, but you can use conveyors strategically where trucks repeatedly haul the same route.
As construction progresses, you can reposition a portable conveyor system to keep pace:
Stacker conveyors – This unit piles up (or stacks) materials, such as aggregate. Telescoping stackers have an extending reach, radial stackers swivel around in an arc, and telescoping radial stackers do both.
Transfer conveyors – This unit raises material so that it can be unloaded into a hopper or onto another conveyor system.
Beyond stacker and transfer conveyors, options include equipment anchored with concrete blocks rather than secured into the ground. These conveyors can be moved easily, as needed.
2. ESG impacts – less disruption to people & communities
Environmental, social, and governance (ESG) reporting is a best practice for large and small construction companies as public perception becomes more and more essential. A project's noise pollution, gas emissions, road damage, ecological damage, and safety record can draw extensive public interest.
Conveyors are safer than trucks
According to OSHA (Occupational Safety and Health Administration), approximately 75% of struck-by fatalities involve heavy equipment such as trucks or cranes.
Modern conveyors run continuously with few workers directly accessing them during operation. In fact, a conveyor system generally requires only half the workforce needed to run a fleet of trucks. There's less mobile equipment and fewer operations & maintenance staff with conveyors.
Removing a few haul trucks from your project eliminates many safety risks.
Conveyors MAKE LESS NOISE
Haul trucks are noisy. The sounds of trucking affect nearby workers and frustrate the public, especially if your project is in a populated area.
Conveyors are an excellent option for earthmoving when you're concerned about keeping noise levels low. When you select the appropriate idlers, low-noise bearings, and conveying speed, you'll find a conveyor system surprisingly quiet.
Conveyors run cleaner
For underground projects, such as tunnel construction, conveyor systems have a significant advantage over trucking & hauling. In addition to running quietly, conveyors emit little exhaust. Fewer toxic fumes mean fewer requirements for air scrubbers and exhaust removal.
Conveyors are also cleaner when it comes to rock and dirt moving. Unlike trucks, a conveying system doesn't throw stones or spread dust. Modern transfer chutes with conveyor belt skirting essentially eliminate dust and spillage, which is an advantage for any construction site.
Conveyors cause less wear & tear
Conveyors don't need to use a well-maintained road they'll easily take aggregate and other bulk materials directly over challenging terrains, such as hills, rivers, and unstable ground. This means your material transportation disturbs the public less and avoids the vibration and road deterioration typically caused by hauling.
And (as a bonus for winter construction) there's no need to maintain a road or clear off snow and ice when you use conveyors vs. trucking & hauling.
At West River, we're conveyor experts
During heavy construction, the unintentional fallout of truck traffic is high. There's the emissions, noise, dust, and the reliance on direct human labor. On the other hand, a conveyor system is a cost-effective and often superior alternative to trucking bulk aggregate.
At West River Conveyors, we have a reputation for engineering dependable conveyor systems and supplying affordable parts. We've partnered with many construction companies to provide the best experience and results, offering top-quality conveyor systems at competitive prices.
If you're an estimator or project manager who's considering using conveyors vs. trucking & hauling, contact us for custom conveyor design, parts, products, and services.