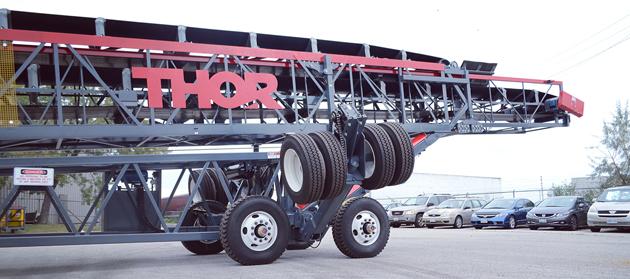 Thor's Fold Up Hammer Axle™ is simple and unique as the main cylinders meet at a common pivot point at the centre of the head undercarriage, reducing stresses on the overall structure of the machine.
Select models of ThorStacker™ and ThorLoPro™ conveyors have been redesigned to accommodate the new Hammer Axle design. Both outriggers sit on a walking beam to provide balanced pressure to ground on un-level terrain. Adjust the main cylinders to compensate for minor slope variations and maintain a smooth radial motion. Walking beams have also been added to both transport axles on all Hammer Axle™ stackers for improved onsite mobility.
Thor's FU Hammer Axle has the widest radial footprint in the industry, providing greater structural stability. Standard features of the Hammer Axle include electric drive, variable frequency drive (VFD) for smooth travel, and all terrain tires that work well in rough terrain. Optional off-the-road (OTR) tires for more serious conditions available on request. Additional safety features include a check valve to ensure no hydraulic creep occurs while in operation.
Thor's Fold Up Hammer Axle is currently available on all 36in telescopic conveyors up to 150ft. For more information please contact your local Thor representative.
THOR Hammer Axle™ is simple and unique. The main cylinders meet at a common pivot...