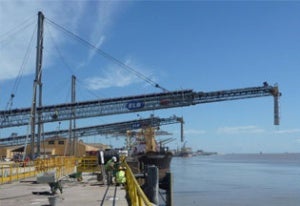 Thor Global has developed two 281ft (86m) telescopic ship loaders for Vale Mozambique's new coal terminal in Beira, each with a loading capacity of 1200t per hour. Thor Global signed up for this major contract with their technology partner ELB Engineering Services, a leading total engineering solutions provider to the minerals and mining industry.
Each ThorTowerStacker™ telescopic cable mast conveyor is wirelessly controlled via remote from the ship's deck. The raise and lower winch system uses a unique hoist control VFD, which smoothly transitions in an elevator motion instead of a jarring start and stop.
The inner truss is equipped with Thor Global's patent-pending inner conveyor covers, which fold like an accordion as the truss retracts in and out. The outer truss is equipped with Thor Global's patented outer conveyor covers. A telescopic spout at the head of the conveyor provides controlled placement of the material within each hatch.
Vale expects to move eleven million tonnes of coal per year via this new ship loading facility.
THOR Hammer Axle™ is simple and unique. The main cylinders meet at a common pivot...