Industrial Equipment Manufacturing
Heavy-Duty Bulk-Material Handling Equipment

Address
Unit 109, 19433 - 96th Avenue,
Surrey, British Columbia,
V4N 4C4,
Other,
Canada
Phone
Industrial Equipment Manufacturing (IEM) is a leading global supplier of standard, modified or custom heavy-duty bulk-material handling equipment. Mining, forestry and oil sands operations throughout the world daily depend on IEM's heavy-duty bulk-handling equipment to move raw materials from the point of extraction and onwards.
Bulk-material handling equipment
To meet the challenging requirements of mining operations, IEM's bulk-material handling equipment is engineered to heavy-duty standards and manufactured using quality components, providing the maximum in operating life expectancy while minimizing the need for repairs.
As an ISO 9001:2008-certified design and manufacturing company, IEM adheres to set standards of excellence in the design and manufacturing of all its equipment. All welding is certified by the Canadian Welding Bureau to CSAW47.1 Division 2 (steel) and W47.2M Division 2.1 (aluminum).
Heavy-duty feeders and conveyors
IEM's bulk handling equipment is designed and manufactured to perform 24/7 in extreme environments, to resist wear and tear, and to simplify maintenance and repairs. Its feeders and conveyors can be customized to suit customer requirements.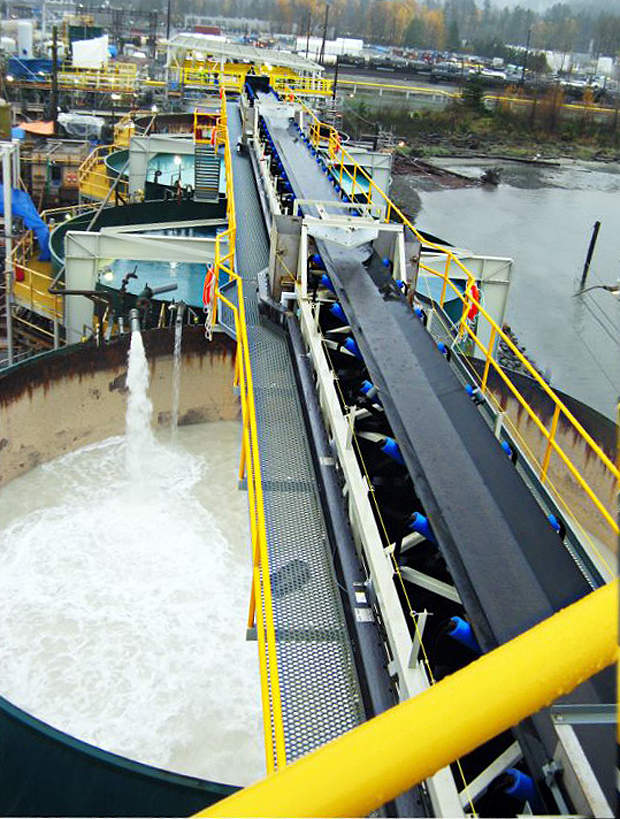 Canexus salt distribution conveyor in Vancouver, BC.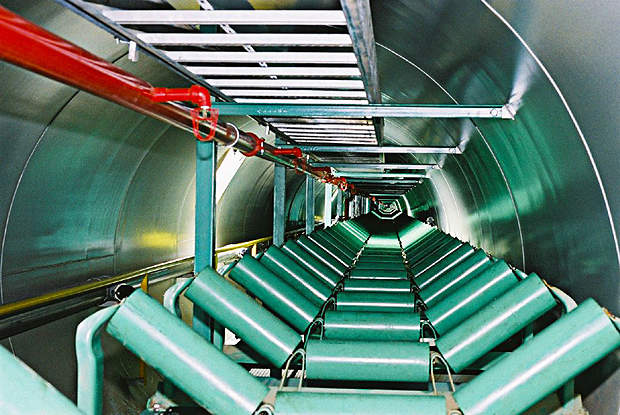 Conveyors meet or exceed CEMA design parameters with specific operating conditions being reflected in the design: Antimina Peru's conveyor.
Apron feeders are available through D10 size to medium.
IEM feeders are primarily used to feed belt conveyors at a selected feed rate. Speed selection is achieved by controlling the variable speed feeder drive. Feeder drives are either hydraulic or electromechanical using a VPD for speed control. Apron feeders are available through D10 size to medium. Belt feeders are available up to a 108in-wide belt. Belt feeders and apron feeders are also available.
Conveyors meet or exceed CEMA design parameters with specific operating conditions being reflected in the design. IEM manufactures the following belt conveyors: high-lift conveyors, chain conveyors, screw conveyors and bucket conveyors.
All heavy-duty bulk handling equipment is shipped directly from IEM's plant in Surrey, British Columbia. The plant is in close proximity to Port Metro Vancouver, allowing for convenient ocean transport to locations throughout the world.
IEM's equipment provides efficient and dependable performance that comes from an experienced manufacturer with over 50 years of design and manufacturing experience, and is in operation throughout North America, South America, Africa and South-East Asia.
Budget pricing of equipment for mining projects
IEM provides budget pricing to consulting engineers and mining companies during its preparation of feasibility studies for mining projects. During this process, IEM recommends equipment to meet the needs of the project's size and type.
Once a project is approved, IEM submits a firm proposal for the design and manufacture of equipment that suits the project's specific requirements.
Ongoing contacts and collaboration between IEM's in-house engineering department and mining operators or their consulting engineers provide opportunities for ongoing product development and for meeting the ever-changing requirements of the mining industry.
For more information about IEM and our bulk-handling equipment and services, visit our website.
Skeena Resources' Spectrum-GJ copper-gold project is situated within the Golden Triangle of north-west British Columbia, Canada.
Industrial Equipment Manufacturing Ltd
Unit 109, 19433 - 96th Avenue
Surrey, British Columbia
V4N 4C4
Other
Canada
John Hards (president)




Telephone Number




Fax Number




Email Address