Diversified Storage Systems specializes in the handling and storage of bulk powered material for the mining and manufacturing industry. Our silos and transfer equipment can be customized to meet customers' needs. Most of our units are full turnkey silo systems; the others require only minimal field installation.
Run-of-mine silos
The run-of-mine silo package was specifically designed for the mining industry using a heap leach process. This equipment allows a precise amount of material to be added to the dump truck within a few seconds:
80t-200t storage capacity
Reduces run at mine process time, allowing for greater raw material amounts to be processed per shift
Remote activation
Reduces overall cost on fuel for trucks and stop / start wear and tear
Greater inventory control
Portable and non-portable storage silos
Our line of portable and non-portable silos can be configured to meet most needs. Ranging from 30t-220t in capacity, these one-piece carbon-steel construction silos come preassembled and wired.
Gravity or auger discharge, and overflow prevention and safety indicators are amongst the features of our portable and non-portable silos. Scale packages are available, and external augers are up to 12in in diameter and 45ft in length.

WAM pulse-jet dust collector with front access.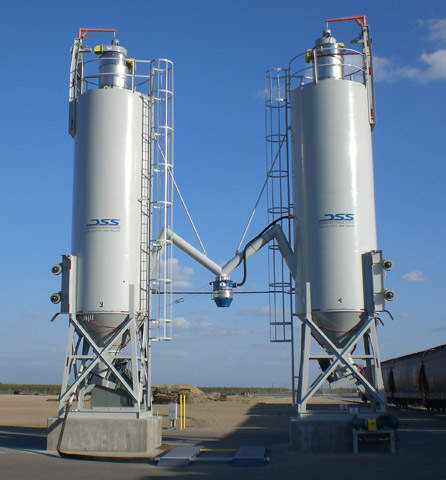 Easy set-up terminal loading trucks at up to 100t/hr.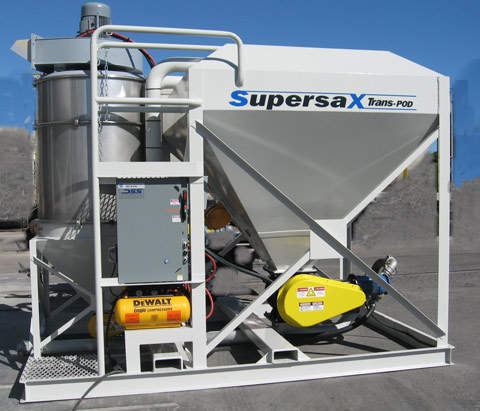 Transfer from super-sack to bulk using a clean pneumatic transfer system.
Run-of-mine silo pre-weighing up to 1,000lb.
Super-sack to bulk-storage handling silos
Efficiently transfer equipment from super sack to bulk storage or truck / railcar using our handling silos. We offer an auger delivery system or a pneumatic delivery system with dust collection.
Transfer rates up to 3,000lb/min can be achieved using these silos, and dust collection systems are incorporated for a clean transfer process.
Pneumatic transfer blowers
We supply dilute-phase transfer blowers for loading and unloading bulk powder. These complete blower systems come assembled and ready to use, and produce from 435ft³/min to 850ft³/min of air flow.
Silo-mounted or ground-mounted dust collectors
Our silo-mounted or ground-mounted dust collectors ensure a clean pneumatic transfer process. We offer a WAM dust collector and our own line of static dust collectors, which comprises static or pulse jet systems with optional fan draw of 65ft² to 500ft² of filtration and 375ft³/min to 3,000ft³/min.