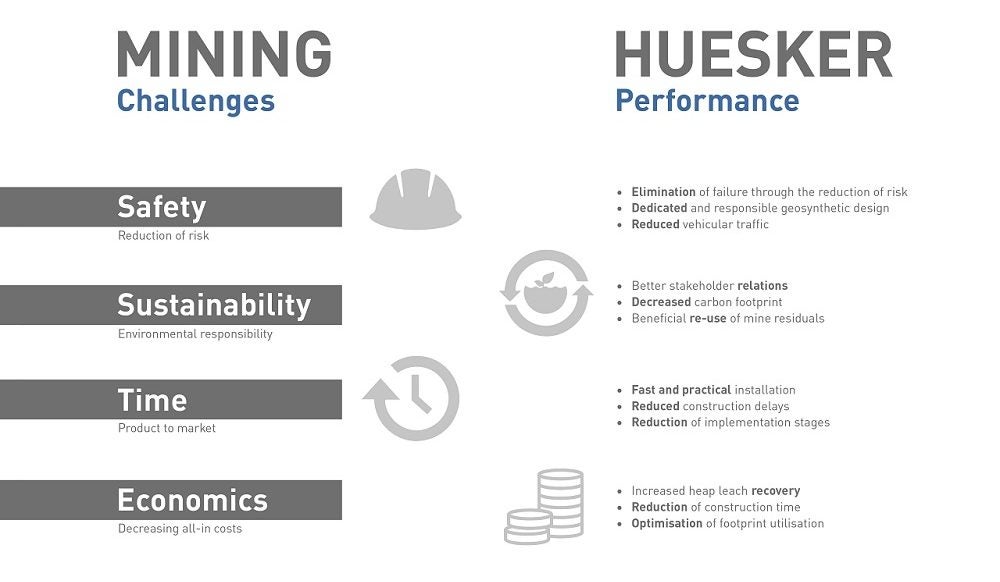 HUESKER offers engineered soil reinforcement solutions, which allow extra-steep and safe construction. Higher and steeper slopes, walls and embankments enable reduced material handling and importation requirements. Designing, for example, steeper sloped waste rock dumps allows for economic utilization of the dump rock footprint area and could additionally lead to the simplification of rehabilitation considerations.
Sustainability
A 2010 study "Sustainable Geosystems in Civil Engineering Applications" (WRAP) impressively demonstrates the significant savings potential in the use of geosynthetics on the basis of individual case studies. Compared to conventional construction methods, up to 89% of CO₂ emissions are saved. Innovative geotextiles can thus make a resource-efficient contribution to permanently reducing CO₂ emissions.
Time
Project-specific geosynthetic design solutions from HUESKER provide superior structural integrity of the foundation and basal layers within platform and road pavements. Our designs can assist with reducing the need for excavation of poor soils or hauling such materials from the site. This saves valuable time and money.
Economics
One specific example of geosynthetic advantages is the thickness reduction of plant and working platforms:
Up to 36 % reduction in imported fill material
Faster construction
Increased safety due to less traffic (and also environmental burden)
Reduced costs and maintenance
Australia
HUESKER Australia provides a wide variety of customised solutions and services to the Australian Mining Industry. Dedicated mining business managers with decades of experience allows HUESKER Australia to offer our customers site-specific, fit for purpose solutions, which are developed to provide the technical and commercial outcomes each of our clients require.