Dymax Mining division specialises in work tools for mining machinery. The primary products include backhoe buckets, front shovel buckets, heavy-duty u-blades, semi u-blades and related attachments. Dymax Mining also designs and manufactures specialised, custom-built work tools to meet the single application requirements of individual mines.
In addition to the specialised mining products, Dymax also sells a wide range of work tools for supporting construction machinery that keeps a mine operating. This includes blades, buckets, snow ploughs, quick couplers, and a host of other attachments for wheel loaders, dozers, motor graders and hydraulic excavators.
Extreme service buckets for backhoes and front shovels
Dymax extreme service buckets for backhoes and front shovels feature Dymax RokGäard 70. A long-wearing, high-impact chromium carbide engineering design exclusive to Dymax, RokGäard 70 significantly extends product utility and durability by more than doubling product life span.
Dymax buckets can be found from coalmines in the Kemerovo Valley of Siberia to the northern reaches of the Canadian Arctic. These Dymax products are available for all brands of backhoes and front shovels.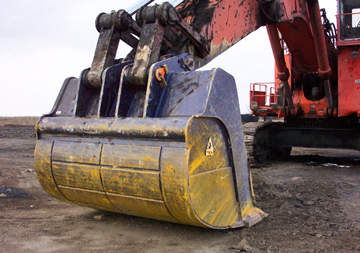 Dymax Backhoe Bucket for Hitachi 1800EX working in coal mining application.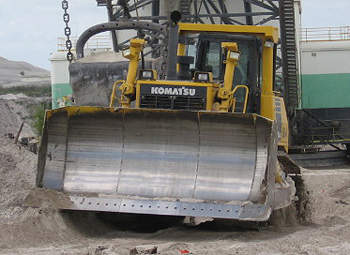 Dymax Semi-U-blade working in phosphate mine in Florida.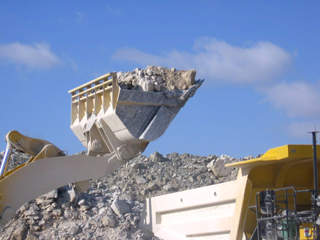 Dymax Rock Bucket working on Komatsu WA800 wheel loader.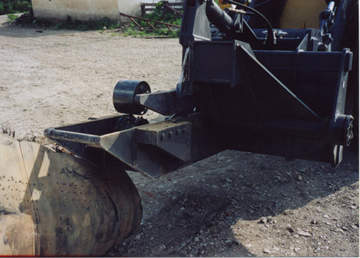 Dymax Conveyer Belt Shear, used in repair of active conveyer belts, as well as disposal of old belts.
Extreme service blades for crawler dozers
Dymax U-blades and semi U-blades for the largest of the crawler dozers have been used for decades in mines around the world. These blades are built of T-1 steel and feature liner plates made of the unique Dymax RokGäard 70.
Production tests reveal that Dymax blades yield as much as a 15% increase in production with no increase in fuel consumption. Priced lower than machine factory blades, Dymax extreme service blades offer a highly cost-effective capital investment to fully equip crawler dozers and send positive returns direct to the bottom line.
Wheel loader buckets for mining applications
Dymax has a long history of building large, heavy-duty buckets for wheel loaders. Dymax rock buckets and coal buckets can be found in mines and quarries around the world.
Dymax specialises in matching the bucket design and capacity to the wheel loader, and to the material being handled. Dymax wheel loader buckets can be found in phosphate, iron ore and coal quarries, diamond mines and any mine that calls for long-lasting, high quality workmanship.
Liner plates for mining buckets and blades
Dymax mining buckets and blades feature the unique Dymax RokGäard 70 liner wear plates. The most wear-resistant material available today is found permanently embedded in the liner plates of Dymax buckets and blades. Dymax RokGäard 70 will dramatically extend the life of work tools in all mining operations. Liner plates are available for other brand buckets and blades.
Conveyer belt shears
Dymax has long been a pioneer in shearing technology. Dymax conveyer belt shears are used in mines to repair and splice active belts, as well as reduce discarded belts into manageable sizes for disposal. 
Pin handler for large cables
Dymax also designs and builds unique, customer-specific work tools to improve the operation, productivity and safety of individual mines. The Dymax pin handler for large cable is a work tool designed for mini-excavators that will cut the time required when changing cables.