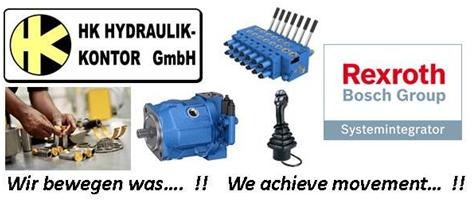 HK HYDRAULIK-KONTOR plans systems for axial piston pumps and motors, as well as complete customised power units.
As a mobile Bosch Rexroth system integrator, we choose from a wide range of components from Bosch Rexroth's production programme of pumps and motors in open and closed loop system, such as: A2FM, A4VG, A10V, A6VM, MCR, and mobile valves, including M4-12 / M4-15 / SP-08.
We choose the appropriate system components for your specific application.
We develop and support custom solutions for your entire system from our extensive product portfolio, from planning and design, to commissioning.
Our construction department offers customised systems and fast delivery times. We also offer spare parts and repairs in-house for all Bosch Rexroth axial piston pumps and motor components.
We have become a Bosch Rexroth mobile hydraulics system integrator in order to support our customers.
For hydraulic applications, the specialists from HK HYDRAULIK-KONTOR GmbH will now be available at locations in Elmshorn (near Hamburg) and Unterbreizbach (near Kassel).