TopROPS
Vehicle Roll Over Protection Structures and Fall On Protection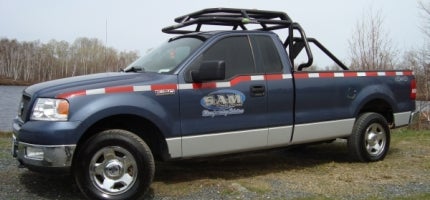 TopROPS is a multi-disciplined manufacturing and design firm that specializes in Roll Over Protection Structures (ROPS) and Fall On Protection Structures (FOPS) for vehicles. Our versatility allows us to service all industries with a commitment to quality unparalleled by our competition.
At TopROPS, we are committed to safety. We pride ourselves on supplying our customers with the highest quality ROPS and FOPS. Whether you're replacing an OEM ROPS/FOPS or require one custom-made to your specific needs, TopROPS does it all, from the heaviest equipment to personnel carriers to ATVs. At TopROPS, We've got you covered.
Recently TopROPS has launched our Truck ROPS series internationally, supplying certified protective structures to companies located in the US, South America and Australia.
ROPS/FOPS for light-duty commercial vehicles and trucks
Our light-duty commercial vehicle (pick-up truck) ROPS/FOPS, have been designed and tested to the highest standards. TopROPS will make sure that the ROPS/FOPS for your vehicle / machine are the best fit for you. TopROPS will custom fit any type vehicle or machine in your fleet so you have the best possible protection. We can accommodate any make and / or model of light duty commercial vehicle.
The Truck ROPS is easily installed on site, or can be shipped to any location for our customer to easily install themselves. ROPS can also be easily transferred to other vehicles of similar model and manufacture year. A back rack, light kit and / or toolbox can also be supplied upon request.
Our Truck ROPS provide companies in various industries with an option to increase the safety of their light duty vehicles with a superior protection system that works in tandem with the vehicles existing safety features. This allows employers to outfit their vehicles for safe operation in unconventional environments.
ROPS/FOPS for heavy-duty industrial and commercial machinery
TopROPS designs and manufactures certified ROPS/FOPS for heavy duty industrial / commercial equipment and machinery. Both ROPS and FOPS are structures on a vehicle that form part of the cabin above the operator and / or passengers. They are designed to minimize the likelihood of operator and passenger injury resulting from accidental overturning during normal operation. In particular, FOPS are intended to ensure that a seated operator and / or passenger are provided with reasonable protection from falling objects, such as rocks or debris. We have designed and manufactured ROPS/FOPS for surface machines as well as underground utility vehicles.
Depending upon the vehicle / machine and application, TopROPS, if required, will manufacture a test device to accommodate the vehicle being fitted. No matter the application, TopROPS will ensure you get the design that's right for you.
ROPS/FOPS custom design and innovation
We believe innovation must serve our company and our clients. Our design / engineering team can create and design a custom ROPS and / or ROPS/FOPS system to suit your needs. Striving to be a leader in fabrication of ROPS/FOPS systems means we must constantly evaluate how to serve our clients better.
Our esteemed engineering department is committed to our clients worldwide. Our ROPS and ROPS/FOPS have been designed, tested and proven to outperform the SAE and CSA Standards requirements. We are ISO 9001:2008 registered and adhere to a comprehensive health and safety program. Our welders are Canadian Welding Bureau (CWB) Certified and complete weekly evaluations that comply with CWB. We can provide engineered designs and work to international specifications.
Roll Over Protection Structures and Fall On Protection Structures testing services
TopROPS will design, build, test and certify ROPS and FOPS for any application or any vehicle up to and including large earth-moving machines and rock-drilling equipment. A simulated stress analysis is used to help determine the potential strengths and weaknesses of the structure.
Once a concept design is determined feasible, the prototype is then fabricated with high-grade structural alloys. Prototypes then undergo a series of physical tests and are re-evaluated prior to certification.
All Finite Element Analysis (FEA), Non-Destructive Testing (NDT) and physical / destructive testing is carried out on our eight-acre site in Val Caron Ontario, Canada. Whether fabricating a proven design or turning a concept into a reality, TopROPS has you covered.
Machine refurbishments to increase vehicle resale value
At TopROPS we understand the harsh environments that your company's vehicles can go though. We know that over time, your vehicle may not look as good as it once was. Our energetic staff will be happy to assist you with a breakdown of refurbishments that you may want your machine to go through. Refurbishment offers the added benefits of vehicle longevity and higher resale value. Not only will the vehicle look brand new again, but it will also do its main job of protecting its internal parts and, most importantly, your staff.