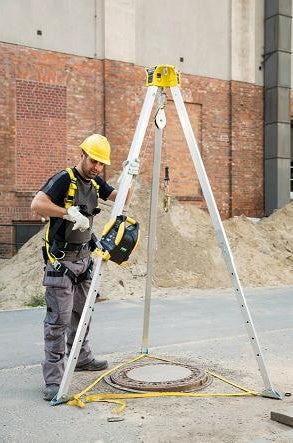 The new MSA Workman Winch has been designed for lifting, lowering and positioning of personnel and materials. It also allows for non-entry rescue of a confined space entrant.
It is to be used in conjunction with the MSA Workman Tripod, providing a confined space system that requires no additional tools to set up. The tripod pin connection fits directly onto the MSA Workman Tripod, saving valuable set-up time.
The level wind mechanism keeps cable evenly spooled on the hub
Built-in clutch prevents an injury if worker becomes snagged
Double braking system provides secondary protection
RFID-enabled allows easy tracking of device
The winch is available with 5mm non-rotatable stainless steel or galvanised cable and comes in a practical carrying bag for convenient transport.
The MSA Workman Winch is certified according to EN ISO 12100:2010 testing, based on EN 1496:2006 class B, with the exception of around 7g not limiting the use to personal rescue only, but also intended for lifting and lowering of personnel and material.
MSA has been in the business of safety at height since 1930. Today it is at the forefront of both the supply and the range of innovative fall protection products. The enhancement of the PPE product range with the development of the MSA Workman Winch is the consequential next step for MSA to strengthen its position as a leading supplier of safety solutions worldwide.
For further information please contact your local MSA representative or visit our website.