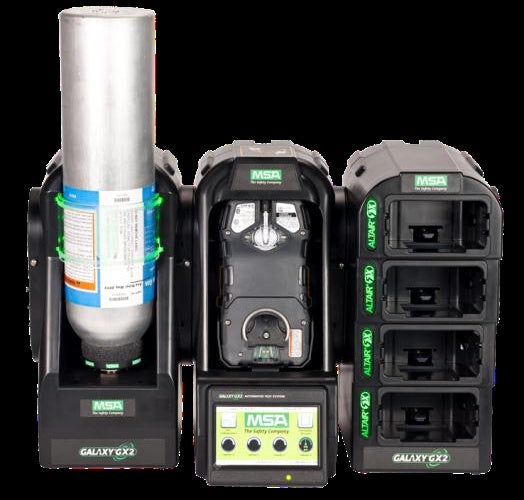 MSA's new GALAXY GX2 automated test system provides advanced safety management and effortless operation. Efficiently manage the portable gas detection fleet through simple, intelligent testing and calibration of MSA ALTAIR® family detectors. To serve global customers, different languages can be selected via the touch-screen menu on GALAXY GX2 and also with MSA link pro software.
The new MSA link pro software offers proactive safety management for GALAXY GX2 systems by addressing gas exposure information and missing or failed calibrations and bump tests. The program offers efficient setup and configuration with dashboard alerts to all conditions, as well as the calibration of gas and expiration warnings.
The system can be set up to automatically send email alerts of gas exposure incidents. Scheduled emails from a master test stand allow for additional automatic notifications based upon detector conditions and events.
Reports can be produced, saved and printed, using the data from the easily-generated session logs, periodic and test results from the GALAXY GX2 system bank. The selection of required information is done via direct input and filtering of the live results.
Users can access software from any computer that is connected to the main database, which exists on one computer or server. A network can be as simple as one test stand bank, one router and one laptop computer; or have many test stand banks existing within a corporate intranet structure.
From the latest in sensor and software technology to instrument design and manufacturing, MSA has the capabilities and expertise to support your portable gas detection challenges.
For further information please contact your local MSA representative or visit our website.