Roymec Technologies is a specialist engineering and project management company providing equipment, plant design and turnkey construction solutions and services in the fields of screening, filtration, thickening, ion-exchange, coalescing, clarification and allied processes for the mining industry.
Mineral processing equipment and technologies
Roymec Technologies has supplied processing equipment and technologies to most mineral sectors, including gold, copper, zinc, coal, PGMs, ferrometals, nickel, phosphate and cobalt to name a few, and boasts reference installations in 25 countries on five continents. Our blue-chip client base include mining companies such as Anglo American, BHP Billiton, Freeport-McMoran and FQML.
Mineral processing equipment design
Our exemplary performance is due to a robust process and equipment audit with high consideration given to efficiency, reliability and economic value. Roymec uses a combination of approaches to equipment selection and design, including laboratory and pilot testwork, first principles and in-house developed computer automated iterative design programs, together with a wealth of actual-site experience, to arrive at the most optimum plant and equipment configuration.
Conventional and high-rate thickener units
We provide conventional and high-rate thickener units up to 75m diameter with a range of sidewall and centre-pier-mounted bridge designs, electric and hydraulic drives, and fully integrated lift mechanism. Designs include fully automatic thickener control systems, feed dilution and integration with local ancillary equipment and the entire plant circuit.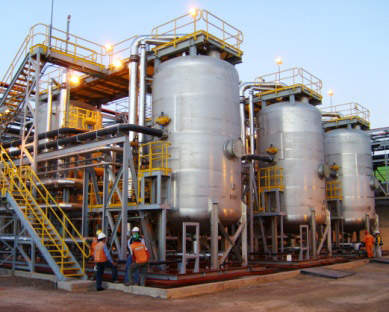 Solvent extraction dual media filter plant at BHP Billiton - Spence Mine in Chile, to remove organic and suspended solids from the loaded electrolyte stream prior to the tank-house electroplating.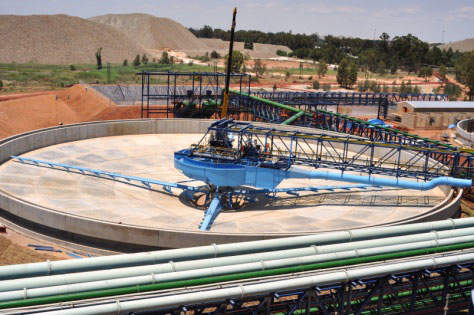 50m high-rate tailings thickener unit on a South African gold and uranium plant; consists of a concrete tank, central drive unit including rake lift, half-span bridge configuration, rake arms and blades, central feedwell and forced-feed dilution mechanism.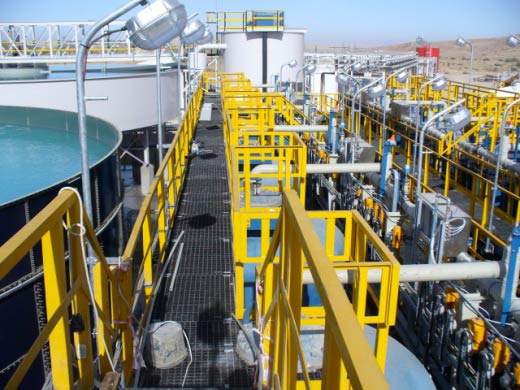 Fixed-bed ion exchange system at Paladin Resources, Langer Heinrich uranium plant in Namibia; Roymec supplied the turnkey plant, including all interconnecting piping, valving, instrumentation and access walkways / platforms.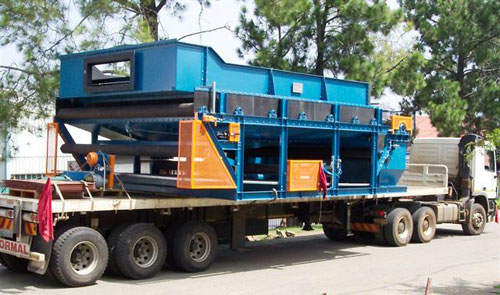 Fully assembled linear belt screen unit ready for delivery to a South African gold mine; linear belt screens are the most effective means of woodchip and tramp oversize removal.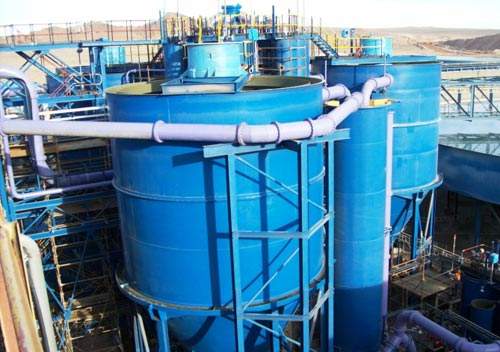 Pin-bed clarifier units at Anglo American - Skorpion zinc mine in Namibia; the units operate as PLS clarifiers, reducing the leach solution suspended solids to below 10ppm.
Roymec's thickener range includes conventional, high-rate, high-density / pseudo-paste, deep cone (raked and unraked), CCD, clarifiers and underground settler units, all designed to operate under the most arduous plant conditions.
Vacuum belt filtration technology for cake-washing applications
Roymec offers 0.5m2 to 120m2 robust, efficient and cost-effective vacuum belt filters (VBF). VBF units are versatile, continuous, operator-free and ideally suited for cake-washing applications where their benefit in terms of cake wash efficiency is unrivalled.
Flocculant and reagent plants for the mining industry
Roymec offers a full range of automatic and manual make-up and dosing plants with capabilities from 0.5kg/hr to 3,000kg/hr. These novel, continuous, packaged make-up and dosing systems reduce powder handling, offer simplified overall operation, and minimised tank volumes and wastage. The systems also offer significant cost benefits, reduced power and footprint requirement.
Mining-plant automatic filter presses
Roymec offers Filmac automatic filter presses with plate sizes from 300mm to 2,000mm. Filmac installations can be found in Africa, all over Europe and Asia. More than 250 units have been installed in chemical, mining, paper and various other industrial and municipal applications. Filmac's unique CRS system allows the filter unit to discharge cake without operator attendance.
Carbon filters, coalesces, dual media and co-matrix filters
Roymec supplies carbon filters, coalesces, dual media and co-matrix™ filters from Spintek Filtration. Over 100 Spintek installations exist on various plants across the world, in coalescing and media filtration applications. Applications exist on major plants treating high-throughput volumes and achieving exceptional results.
Twin-wire belt presses and linear belt screens for screening and dewatering
A wide range of belt presses and linear belt screens are available from Roymec for the dewatering of various mineral and industrial slurries. Linear belt screens are simple, robust units designed for high volumetric flows and offer unrivalled efficiency in oversize removal.
Ion exchange and chromatographic separation systems
Roymec offers counter-current ion exchange and chromatographic separation systems from Outotec's Septor Technologies. Septor's process efficiency is unrivalled compared to conventional fixed-bed systems.
Vacuum and pressure disc and drum filters for mining applications
Roymec supplies Bokela vacuum and pressure disc and drum filtration technology and provides filters from 2m2 to 280m2 in size. Use of steam injection, roller discharge, novel feed trough and vacuum head designs enhance overall filter performance. Bokela specialises in the retrofit of existing installations to improve throughput and efficiency.
Pin-bed clarifier units
Roymec provides Waterex deep-cone pin-bed clarifiers for the generation of high-quality overflows and/or high-density underflows. Units offer a combined ultra-high rate thickener and pinned floating bed media filter all in one vessel. Units provide consistent, reliable operations with an overall reduction in suspended solids down to below 10ppm.
Fixed-bed ion exchange and resin elution systems
Roymec offers fully assembled, skid-mounted fixed-bed ion exchange and resin elution systems with full instrumentation, piping, valving and control. The units offer a low-cost design with emphasis on maximum recovery and flexible operation.
This turnkey concept includes circuit integration and attention to aspects such as resin screening, solution clarification, resin elution and reagent minimisation.