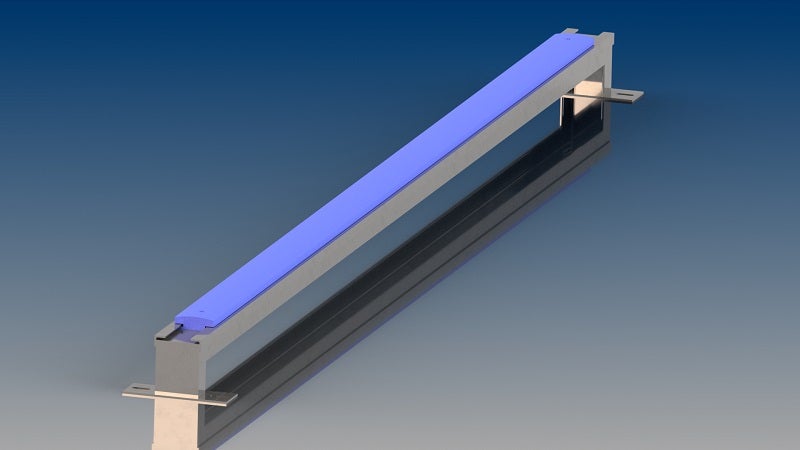 Afri-tech Mining is one of the premier suppliers of high-quality materials for use on linear screens, vacuum belt filters, belt presses and automatic pressure filters to the mining and heavy industrial sectors in South Africa. This is a company that pride themselves on their innovation and they have on several occasions created, or at least procured bespoke products to suit their client's specific needs.
Their product range includes:
Linear screen cloths
Vacuum belts
Belt press cloths
Tracking systems
Tracking valves
Full stainless-steel spray bars
Power nozzle for vibrating screens
Sliding bars
Rollers
Bellows
Distribution plates
Safety hammers
The Afri-Tech Sliding Bar provides ease of handling, no moving parts and long life due to the use of the best wear materials available in the market. The weight of the replacement bar alone makes a massive contribution to the crucial safety factors of lifting, moving and installation. With this much lighter replacement bar, handling becomes effortless compared to traditional rollers. The reduced weight also contributes to less time being lost on breakdowns, as well as no need routine greasing of changing of bearings during maintenance.
A knockout solution
The linear screen industry has for many years been looking for a solution to bulky, heavy, cumbersome maintenance spares. Afri-Tech mining supplies, innovative and always a step ahead of their opposition, made the effort and succeeded in providing an economical, lightweight solution for the industry.
With many different 'lightweight' rollers on the market, Afri-Tech feels that the Afri-Tech Sliding Bar is the best alternative solution for cloth support rollers. To ensure the strength and durability of this exceptional design, we employ the use of the best wear material available.
Standard sizes offered in the Afri-Tech Sliding Bar range are currently:
4,700mm for the use on cloths 4.5m-wide
3,700mm for the use on cloths 3.5m-wide
2,700mm for the use on cloths 2.5m-wide
2,050mm for the use on cloths 1.9m-wide
In the interest of offering bespoke solutions, even shorter lengths can be requested when enquiring about this product.
There are even more advantages of having an alternative to standard cloth support rollers. From the reduction of downtime, no greasing of bearings, to improved safety when installing it on site, there is no doubt that the Afri-Tech Sliding Bar will be of great benefit to the end user and the industry.