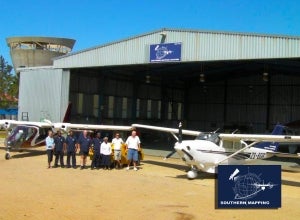 Early in 2012, Southern Mappings' Operations Division moved out to Grand Central Airport – how time flies! It has now been a full year since the relocation and for the past 12 months we have been operating on our own Air Service Licence issued by the South African Civil Aviation Authority.
Southern Mapping is very excited to announce that we have recently opened our own AMO (Aircraft Maintenance Organisation). This ensures faster and safer turnarounds of our aircraft repairs and routine maintenance. The capacity of our AMO allows us to service our own aircraft as well as several belonging to other clients.
We welcome Andy Watson, chief engineer, and his team to the Southern Mapping family.