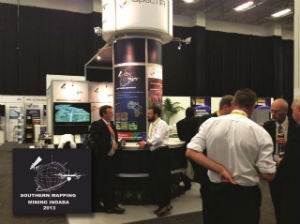 Mining Indaba 2013 has come and gone – and what an Indaba it turned out to be! This year's Mining Indaba was the largest ever, with over 7,700 participants from all over the world. The continued growth of the event is testament to the unrivalled opportunities in African Mining. The Mining Indaba continues to be the catalyst for tremendous FDI into the continent and for economic growth of the Western Cape.
Southern Mapping together with our partners Spectir again participated and drew tremendous interest from delegates. We made new contacts, met new potential business partners and reconnected with old friends and colleagues. Our now very popular annual cocktail function on the Tuesday afternoon was again well attended by some of the top industry leaders.
We'd like to take this opportunity to thank everyone involved for making this event such a huge success. We look forward to next year's conference.