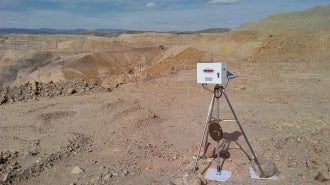 Call & Nicholas Instruments, Inc. maker of SlideMinder slope movement monitoring and warning system, has announced that Reutech Mining will be an authorised distributor of SlideMinder products in Africa. The SlideMinder system will be on display at Reutech's stand (E05, Hall 6) at the Electra Mining Africa 2014 show on 15 – 19 September in Johannesburg, South Africa.
SlideMinder is a wireline extensometer system that continuously measures ground displacement in real-time. SlideMinder can improve coverage and reliability in Reutech Mining's radar slope monitoring systems by augmenting radar technology where changes in topography create undesirable geometry for accurate triangulation typically required by radar systems.
Call & Nicholas Instruments operations manager Josh Lamm said: "We partnered with Reutech Mining's software engineers to integrate SlideMinder data into their 3D radar display software.
"This allows users to see an overlay of the movement recorded by the radar along with the secondary vectoring of the extensometers. We are pleased with this next phase in our partnership. As an authorised distributor of SlideMinder branded products for Africa, Reutech will help greatly expand our market."
Reutech Mining executive manager Jan de Beer said: "For Reutech Mining this is another step in providing quality geotechnical products to our clients.
"SlideMinder is the global leader in wireline extensometer systems and will therefore support and enhance our network of MSR systems in the African region. We look forward to a mutually beneficial relationship with SlideMinder."
---
Image: Reutech Mining has been selected as an official distributor of the SlideMinder slope movement monitoring and warning system in Africa. Photo: courtesy of Reutech Mining.
Reutech Mining is proud to announce it recently commissioned the world's first MSR120 radar module...