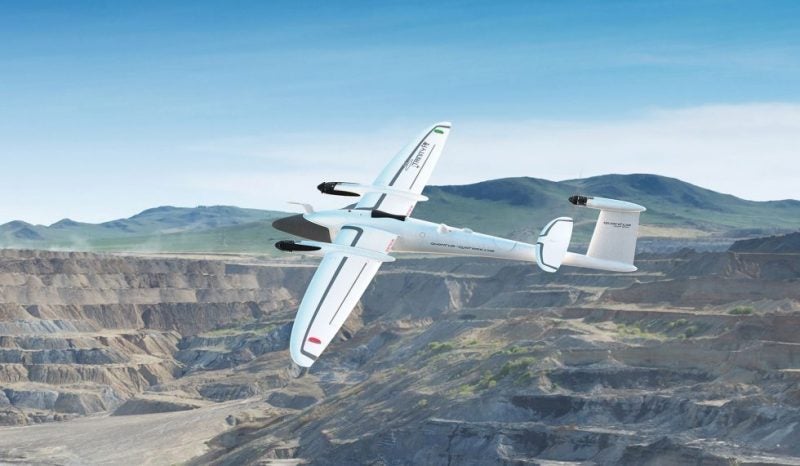 Quantum-Systems released the enhanced version of the Trinity F9, the Trinity F90+ at the Intergeo in Stuttgart. With a flight time of 90+ minutes combined with long-range telemetry solution of up to 7.5km and PPK capabilities for more accuracy.
Comprehensive and state-of-the-art features are available on both sides, hardware and software.
Increased flight time up to 90 minutes with dual payload configuration
Featuring new motors and increased battery capacity, the Trinity F90+ can now stay in the air for 90+ minutes. In addition, there are sufficient reserves to accommodate payloads of up to 700g. It is now possible to equip a dual payload configuration of Sony UMC-R10C and MicaSense RedEdge–MX to make use of RGB & multispectral sensors in one flight. Simply perform more demanding missions in less time! (E.g. Map up to 700ha @1.26in/px GSD (3.2cm/px) at 120m AGL).
Long-range 2.4GHz telemetry
In addition to the dual variant, single payloads with Sony RX1R II, Sony UMC-R10C, MicaSense RedEdge-MX and Altum are also available. All combined with a high range telemetry solution covering up to 7.5km.
Live air traffic in QBase3D for advanced operational awareness (ADS-B in & out)
The flight safety is further increased by the automatic integration of the live air traffic info into QBase3D, the included software for mission planning, monitoring and post-processing. With the help of the pingUSB from uAvionix, the UAV pilot now receives high-quality tracking data from other aircraft around him to increase its operational awareness significantly. An optional ADS–B–out upgrade is also available in order to meet the highest regulatory requirements.
PPK & iBase (PPK Base Station) for best-in-class accuracy
For all surveyors and professionals that require highly accurate data down to a few centimetres, the Trinity F90+ enables them to reduce typical GNSS geotagging errors of several meters down to 2-5cm via auxiliary GNSS data collection in flight.
The PPK module comes with an additional PPK base station, called iBase, for reliable reference data in an instant. Thanks to a strong cooperation between u-blox and Quantum-Systems, massively increased data accuracy at dramatically reduced costs is now possible with the all-new Trinity F90+.
The new Trinity F90+ is available now to all existing resellers, end users and potential customers through our current distribution network. The delivery happens at a first-come-first-serve basis. The Trinity F90+ comes at a retail price of €14,900 (excl. VAT).
"With the launch of the Trinity in 2017, we have been able to demonstrate to our customer base that they can rely on a durable and long-lasting UAV with a modern payload concept. With its price-performance ratio and industry-leading enhancements, the new Trinity F90+ definitely has what it takes to further stir up the UAV market. We have listened to our professional customers to give them the perfect tool for their work and are confident that the Trinity F90+ will meet their high expectations. We're excited to see our users' feedback on our new product and how we can move from there to leverage it to the next level," emphasizes Quantum-Systems CEO Florian Seibel.