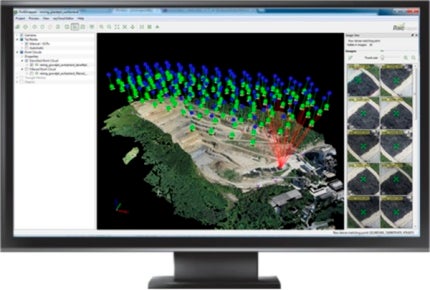 Pix4D has released its new Pix4Dmapper software: the rayCloud.
The new package has a ground-breaking and fully-integrated editing tool, providing extended CAD and GIS possibilities. Pix4D's latest innovation included in Pix4Dmapper combines the 3D point cloud with the original images for easy viewing as well as highly accurate semantic annotation and project improvement.
Pix4Dmapper is available both as a one-time charge license and a monthly or yearly subscription model to give customers all options, with no limitations in a package that scales to all needs. The company's goal is to provide customers with cutting-edge technology and to combine the latest innovations of Computer Vision and Photogrammetry.
Orthomosaics, DSMs and point clouds generated with Pix4Dmapper achieve survey-grade accuracy from any aerial or oblique imagery, ranging from lightweight compact cameras used on UAVs (including GoPro, multi-spectral cameras and fish-eye lens) to SLRs and large photogrammetric sensors carried by aircraft. New algorithms allow for even more precise and stunning results and help customers to get the most out of their UAV imagery.
While Pix4Dmapper's fully automatic workflow stays as intuitive and easy to use as prior Pix4D software packages, it also gives users full control over all tie points, calibration and results.
rayCloud allows the user to assess, edit, interpret and improve results directly in the software, thanks to its connection between the 3D point cloud and the original input images. The rayCloud makes it possible to annotate and measure objects with the highest precision, to fully control tie points as well as calibration and even to use any annotations to reprocess projects in order to improve the overall project accuracy.
To help users get the most out of its innovative technology, Pix4D has invested in an extensive Knowledge Base tool that is constantly updated with latest articles, advice and tutorials. Supporting customers in all project stages is key to Pix4D, and the reason why both personal support and free access to the Knowledge Base are included in the first year of Pix4Dmapper.
Pix4Dmapper is an integrated solution tailored to needs of industries such as mining, topography, agriculture, construction, natural resources management and more. Output results can be seamlessly imported into any GIS and CAD software packages. True to its spirit of continuous innovations, Pix4Dmapper already includes industry-specific developments for both the mining and agriculture market that will be extended over the coming months.
For more information, please visit the company's website.