Pix4D
Next-Generation Aerial Image Processing Software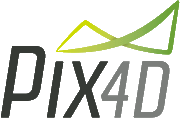 Address
EPFL Innovation Park,
Building D,
1015 Lausanne,
Switzerland
Phone
Pix4D is a solution to converting thousands of aerial images taken by lightweight, unmanned aerial vehicle (UAV) or aircraft into geo-referenced 2D mosaics, 3D surface models and point clouds. With its advanced automatic aerial triangulation based purely on image content and unique optimisation techniques, Pix4D software enables civilian light-weight drones to become the next-generation mapping and surveying tool.
Topographical mapping and surveying solution
Pix4D software technology makes the management of extraction activities and environmental protection issues easy-to-handle and cost-effective, without exposing workers to dangerous conditions. Compared to traditional surveying technology that is labour, skill and cost-intensive; using UAVs or airborne imagery to produce orthomosaics, DSMs and point clouds of open-pit mines, quarries and pits increases safety, efficiency and accuracy, while keeping cost and labour to a minimum. This new and effective process of generating up-to-date information allows for continuous monitoring and well-structured decision making for any area of mining sites. Results obtained with Pix4D software are traceable over time in order to comply with environmental standards.
3D precision software that is mobile and easy to use
Pix4D software offers survey-grade accuracy able to achieve results with centimeter-grade, LiDAR-like 3D precision. Rapid Check and Full Processing modes feature a fully-automated workflow and are intuitive and easy to use. Pix4D software runs on standard laptops and desktops, supports any imagery (aerial and oblique, RGB, NIR, Thermal, single or multi-band), camera type and project size. We offer personal support and an extensive knowledge base of our technology, as we believe that supporting customers in all project stages is the best way to build a lasting relationship.
Output results of Pix4D software are readable by any professional GIS and CAD software, including specialised industry packages, and seamlessly integrate with traditional photogrammetry suites.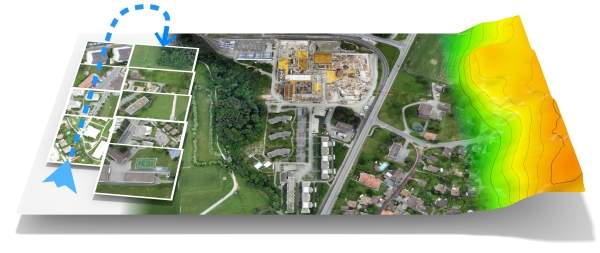 Convert images to geo-referenced 2D maps and 3D models.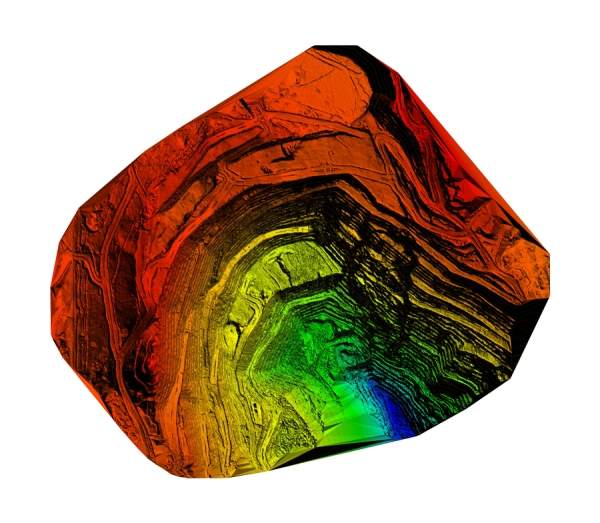 DSM of an open pit mine.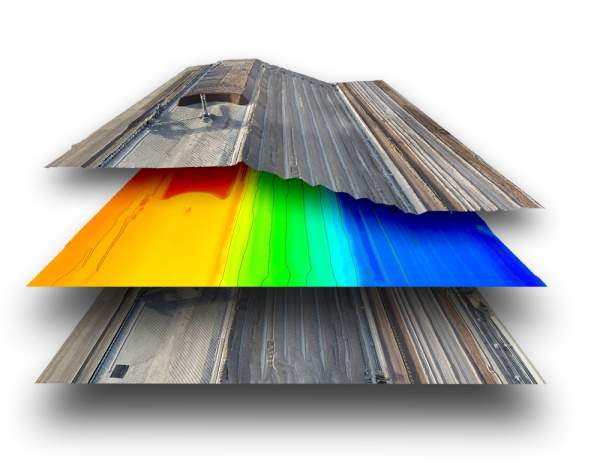 A representation of Pix4Dmapper output results - Orthomosaic, DSM and point cloud, from bottom to top.
Screenshot of the rayCloud Editor tool in the Pix4Dmapper software package.
Mapping and modelling solution with editing tools
Pix4Dmapper is our latest desktop software package. It offers a complete mapping and modelling solution with innovative and fully-integrated CAD and GIS editing tools. Built on the success of prior packages, Pix4Dmapper is the first software of its kind to transform raw imagery into semantic information, such as volume calculation of stockpiles, generation of Contour Lines, extraction of Profiles and 3D Breaklines.
Pix4Dmapper also introduces the rayCloud; an innovative concept combining the 3D point cloud with the original input images for easy viewing, highly accurate semantic annotation and project improvement.
Leaders in unmanned aerial vehicle processing software
Pix4D was founded in 2011 after more than ten years of scientific research and has become the leading provider for professional, unmanned aerial vehicle (UAV) processing software. What started as a spin-off of Ecole Polytechnique Fédérale (EPFL) Computer Vision Lab in Lausanne, Switzerland, is now a dynamic, rapidly expanding company. Pix4D is pursuing its research and development efforts by collaborating with industrial partners and EPFL, in projects supported by the Swiss Government.
A visualisation of the new Pix4Dmapper software.
Pix4D has released its new Pix4Dmapper software: the rayCloud. The new package has a ground-breaking and fully-integrated editing tool, providing extended CAD and GIS possibilities.

13 January 2014
Pix4D SA
EPFL Innovation Park
Building D
1015 Lausanne
Switzerland



Telephone Number




Fax Number




Email Address




Links