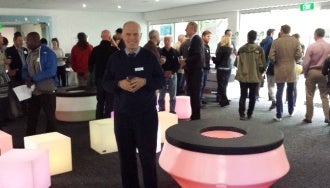 HiSeis celebrated its inaugural open day at its offices in the Innovation Centre of Western Australia on Friday 20 June. More than 90 guests were welcomed from the resources, research and other industry sectors.
To promote HiSeis' innovative technology and expanded vibe truck fleet, the open day included an exhibition of the company's product and services range as well as a demonstration of one of its vibrator trucks.
'To feel the earth move' a shuttle bus transported guests to Curtin University where they were able to safely experience this high-end technology in action.
The main reason for this initiative was for more people to get to know the team and to explore seismic technology.
Based on the success of the event HiSeis is planning a bigger and better event next year.
Visit the company website for information about how HiSeis could help your company.
---
Image: HiSeis holds open day at the company's Innovation Centre. Photo: courtesy of HiSeis.