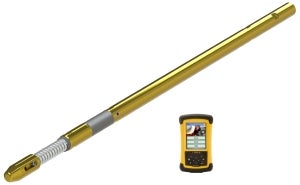 Devico, a Norwegian company with more than 20 years of experience in directional core drilling and manufacturer of borehole surveying instrument, is proud to announce the addition of its latest innovative product in a long line of state-of-the-art drill hole positioning solutions.
The new DeviShot magnetic survey tool offers innovation and flexibility, operating as either a single or multi shot instrument at constant or variable depth intervals. Whether surveying exploration boreholes, grout curtains or blast holes, DeviShot's robust integrated running gear enables operation at exceptional depths.
The rugged and versatile DeviShot is equipped with an integrated IP68-rated Nomad PDA system powered by DeviSoft Mobile software. Using Brilliant Blue Technology (BBT) to communicate wirelessly with PDAs in the field, DeviShot provides quick results which can be further plotted and analyzed using DeviSoft, or quickly transferred to clients via a USB flash drive.
The user-friendly DeviShot comes pre-assembled for use straight from the box and features a BBT activation system to ensure minimal power consumption and longer battery life. DeviShot's limited maintenance requirements and integrated survey data quality control features also contribute to unparalleled results in a quick, precise and cost-efficient manner.
DeviShot is the latest bi-product of Devico's commitment to constantly improving upon its innovative product line. Led by mechanical, electronic and software departments working in unison, the company strives to provide its clients with the best available products on the surveying market and to help increasing drilling productivity for there customers.