Ecology designs, manufactures, installs and maintains a diverse line of dust suppression systems for the mining and material handling industries. We provide diversified products that enhance, improve and prolong your plant whilst also making it ecofriendly.
Uncontained dust suppression systems
This is the original EU patented, CE Certified and ISO 9001:2008 approved system.
One of the most important new devices in dust suppression is the Fog Cannon®. The system is very effective against the particles produced by mining, materials handling, waste disposal odors, demolition, stock piles, port facilities, construction and many other applications.
ECOLOGY have developed this system not only based our 25 years' experience in fog cannons, but also through extensive studies, calculation models and tests carried out by the University Polytechnic of Milan.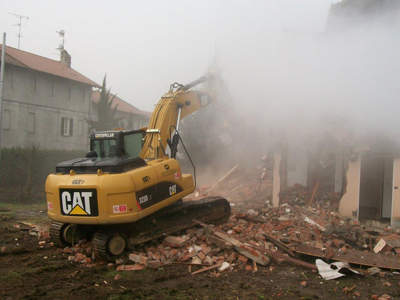 Ecology provides conveyor components and dust management systems for the mining industry.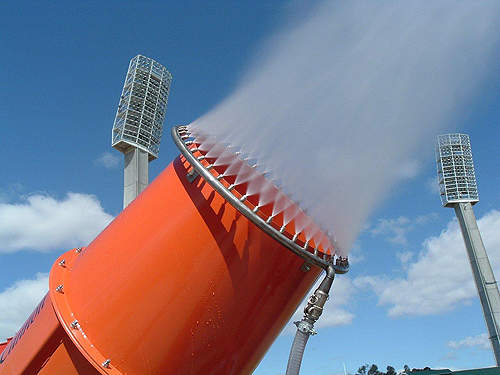 A cannon throwing a continuously equalized fog flow.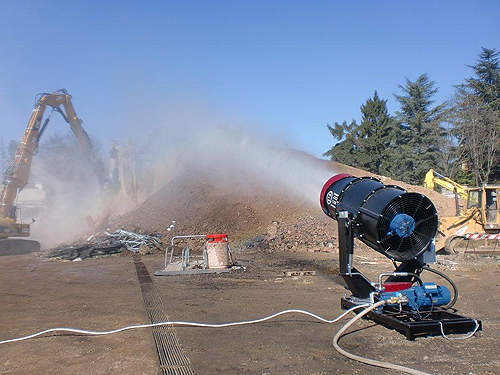 A fog cannon suppressing dust lift-off and preventing dust migration from the site.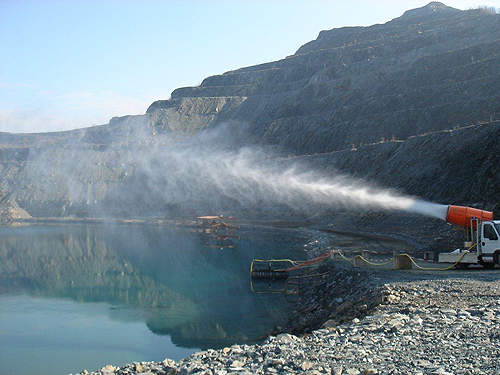 Ecology dust control systems are easy to install and they reduce clean-up costs.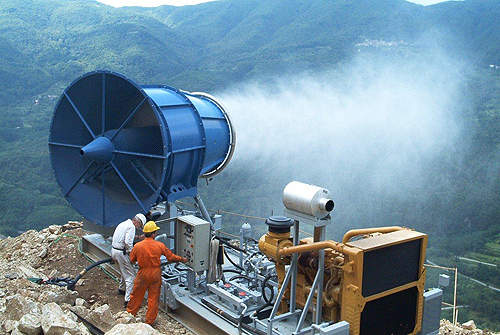 Our contained dust suppression systems control airborne particles and dust economically and effectively.
Fog Cannon is the sole and unique system can guarantee PM10 reduction of 50% and PM2.5 reduction of 70%, tested and proven also downtown the city.
The Fog Cannon is available in range of different sizes of throw, including:
NFC 30yd
NFC 50yd
NFC 60yd
NFC 40 / 80yd
FC 110yd
FC 150yd
FC 200yd
FC 250yd
FC 500yd
The Fog Cannon is the original patent product which guarantees the suppression of airborne dust of 90%. We guarantee no excuses.
The Fog Cannon is currently in use for removing dust or to prevent the formulation of dust by agglomerating the flying powder. Its use today includes mining, stockpiles, reclamation operations, railcar dumps, etc.
It has been designed to guarantee the lowest possible water consumption, often just 25% of the traditional spraying de-dust systems.The system's efficiency can be easily increased by introducing chemical surfactants to quickly capture the airborne powder and settle it down to the ground, and can also be used for ordor treatment, firefighting, chemical dispersing and irrigation.
Evaporators for downstream processing
Within a downstream processing system, several stages are used to further isolate and purify the waste waters. Evaporation falls into the concentration stage of downstream processing and is widely used to concentrate foods, chemicals, and salvage solvents. The goal of evaporation is to vaporize most of the water from a solution containing waste. Gray water can be dry often over 85% water.
The solution containing the desired product is fed into the evaporator and get launched or pulverized into the blue sky. The applied micronizing converts the gray waters in the solution into vapor. The vapor is naturally removed from the rest of the solution and the condensed waste does precipitate to the ground to be removed by bulldozer.
The Evaporator is available in range of different sizes, including, E30, E50, E60, E60, E100, E150, E200 and E500.
Contained dust suppression systems
Ecology contained dust suppression systems are used to control airborne particles and dust economically and effectively. Using low-moisture fog or surfactant dust management technology, the contained dust suppression system forces water through ultra-fine nozzles to supply a microscopic mist that merges with airborne dust to return dust particles to the main material stream. Each system is custom-engineered to match your operating requirements, and cut clean-up costs, equipment failures and regulatory problems.
No compressed air or expensive consumable chemicals are required to use the system and only 0.1% water is added to prevent downgrading the material.
Conveyor components and belt cleaning
The benefits of efficient belt cleaning are apparent to any conveyer belt user, but the most important are the efficient operation of return idlers and reduced spillage. There is a wide range of scraper types available today on the market from a number of manufacturers, all of which offer varying degrees of efficiency depending on belt type, belt speed, joint type, material, moisture content, etc.
The only problem is that most of these belt systems need extensive maintenance. Ecology products are the world's preferred belt systems because they offer low maintenance, the longest wear life, high-quality materials and they save costs.
Ecology conveyor belt systems offer a cleaning efficiency of 90% or more. Adjusting the belt systems on Ecology products is unnecessary throughout their entire life, meaning no maintenance or extra labour costs.
Dust control nozzles and components
Dust is a serious problem at many stone or dirt quarries or mines. It can cause health problems, and damage equipment. In addition, it reduces visibility and makes working difficult. Bulk visibility is one of the measurements OSHA uses to determine if dust is not being adequately controlled.
Controlling dust is a common application in which our nozzles are used. Dust control can take many forms. The two main categories are preventative and symptomatic.
Dust prevention stops dust before it becomes a problem. Wetting piles and roads would be considered preventative dust control. Another often-overlooked method of prevention is controlling dust in process. This can be done by adding a small amount of water to aggregate or whatever material is likely to produce dust as it moves through a process.
Dust suppression is dealing with dust once it is already airborne. This is usually only done when it is not practical to control dust preventatively. One example would be filling dump trucks from a pile with a loader. It is not practical to soak the pile such that the entire pile is damp, but a few well-placed nozzles around a filling point can reduce dust production significantly.
Ecology has different wide range of nozzles very much effective for both the above situation, unplugging guarantee.
Heavy-duty reinforced sheeting
The Dust Tex Net® is heavy-duty reinforced sheeting with fixing band for toggle ties. Available in varying widths and densities, including flame retardant options, this durable and resilient material is ideal for industrial containment where 100% blockout protection is required.
The Dust Tex Net operates with the same concept of Gore-Tex®, buy applied against the dust and not against water, so the wind comes trough and the powder not. The sheeting has a range of features, including:
Easily applied, simply unroll and fix to fencing using wire or cable ties
Effective, great visual barrier and dust control measure with a range of blockout grades
Long-lasting, can be rolled up and reused
Available in a range of colors – select from beige, white, black, blue and green
Sun resistant – doesn't degrade the characteristics and color during the time
Fire resistant and / or fire retardant
All products here listed are covered by warranty and guarantee five years.