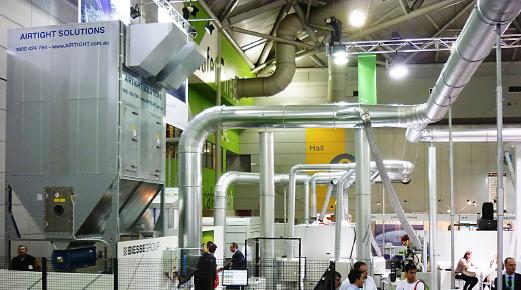 Airtight Solutions is a leading supplier of air pollution control systems and filtration solutions across industries. The company's dominant market position in the wood industry was evident at the recent AWISA 2014.
We spoke with Stig Brixen, general manager of Airtight Solutions, to learn the reasons behind the company's success.
"Airtight has become the preferred supplier to the largest wood working manufacturers and machinery suppliers in Australia and NZ," he said. "It is no coincidence when fierce competitors like Biesse, Homag, Weinig and The Wood Tech Group, all commission Airtight's expertise for superior dust extraction results for the all important AWISA 2014 event."
For years Airtight has quietly built a reputation for performance, reliability and service that is second to none.
"Our strength is in our engineering background and proven ability to provide premium solutions of unrivalled reliability, quality, performance and efficiency," Brixen said.
"The AWISA platform allows us to demonstrate this in live operations and in direct comparison to opposition products.
"This was particular evident at the Biesse, Homag and The Wood Tech Group stands where our modular NFS Reverse Airflow extractors demonstrated outstanding performance and quiet operation.
"Airtight is a one stop shop for the industry. We offer shredders, briquetting presses, burners/heat plants, duct/hoses, service/installations and energy saving products saving our clients thousands of dollars every year."
With thousands of dust control systems installed, Airtight Solutions combines with its own expertise the experience of internationally recognised suppliers Nederman, Norres, Votecs, Nordfab and Vortex, to provide superior results every time.
This article originally appeared in AWISA Magazine.