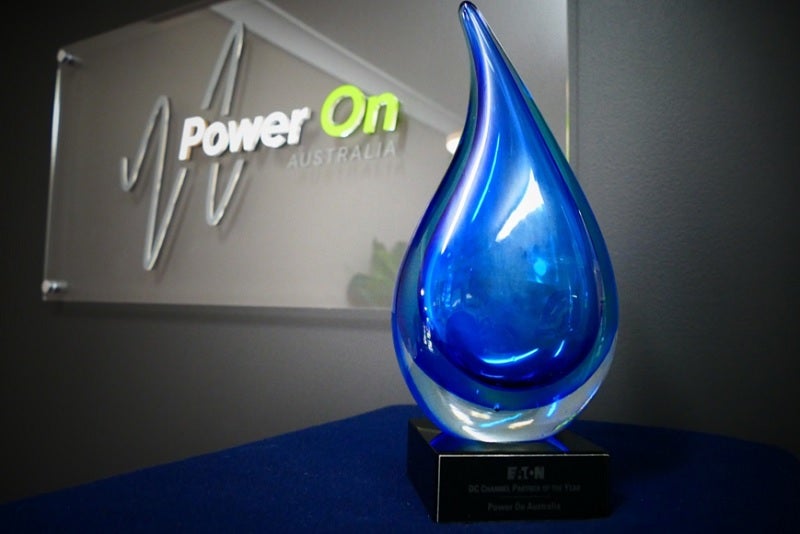 Eaton has celebrated the achievements of its PowerAdvantage channel partners in Australia and New Zealand at a special awards night held as part of its inaugural LeverEDGE PowerAdvantage Quality Partner Conference in Sydney in March.
John Atherton, Eaton General Manager – Power Quality Australia & New Zealand, said the awards were a terrific opportunity to recognise partner achievements across the region following the relaunch of its PowerAdvantage Partner Program and portal earlier this year.
"Eaton is committed to supporting and celebrating our power quality channel as it focuses on maximising edge computing opportunities, which are top of mind for our partners as 5G networks continue to take shape."
"We applaud the efforts of all partners including our inspirational award recipients who performed exceptionally well last year, delivering great value and service to Eaton and our customers."
Power On Australia picked up an award for DC Channel Partner of the year, which John says: "Strengthens our focus on edge applications within telecommunication assets. We see 5G as an enabler of connectivity in today's distributed devices and IoT."
Power On Australia complements Eaton's global leading power solutions with in-house local integration, support and services to provide value in addressing the market needs.
Power On Australia, Director Boyd Lockett said: "The awards mark a personal milestone in the company's 16-year history. The strategic changes made three years ago with significant investment resources for integration has re-energised our mission to be front of mind for our customers in the ever-changing power quality markets. Engineered solutions tailored to suit the unique needs of our customers is our end goal."
"For an end user to feel secure and know they can rely on a stable local business with a solid ethical platform to deliver results is one thing, and to be totally supported by a quality global manufacturer, such as Eaton, only endorses and strengthens the offering, making it easy to do business with us. This can be somewhat overlooked or forgotten in today's ever-changing markets until tested or called on.
"We are very proud of Power On Australia and appreciate the award for our efforts in a very competitive market. The consistent hard work of the team has made the results possible."
The milestones Power On Australia reached in the past three years since becoming the only Authorised DC Integrator include:
Year-on-year growth in excess of 30%
Strong growth in the mining/communication sector highlighted by a significant $1 Million+ order in a Greenfields mine site using an Industrial DC UPS solution
Localised stock holding in products off the shelf BOM/JIT
Local Integration of engineered DC systems reducing lead times for niche projects down from 12 weeks to four weeks
Developed in-house design, engineering electrical support for DC power solutions
In-house testing, battery load testing, and equipment testing
Major national contract in a national service broadcast business
Several major defence solutions for deployment overseas
Warranty Partner on specific mining accounts