First National Battery was established in 1931 when the first automotive batteries were produced in East London, South Africa.
First National Battery is the leading manufacturer of lead acid batteries for automotive, mining motive power, standby, surface traction, forklift, mine lighting and renewable energy applications. These products are used in more than 40 countries.
Traction batteries for mining applications
As the first South African battery manufacturer to use state-of-the-art spine casting equipment, First National Battery is able to produce low antimony positive plates of 1.8%Sb. The company's traction cells achieve capacity within ten cycles.
The benefits of First National Battery's low-antimony positive plates include: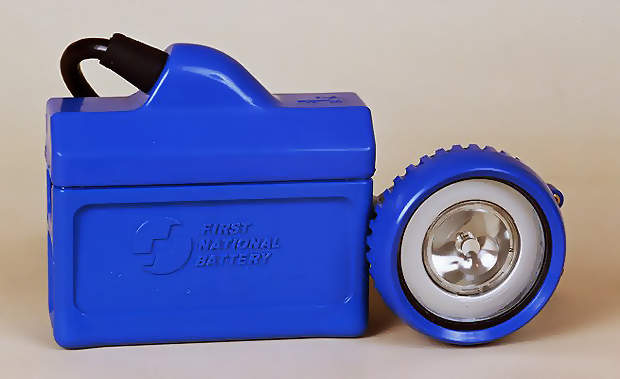 4Ah miners caplamp with LED light source: more than four million of these lamps have been manufactured since 1982 and are in constant use in underground mining applications daily around the world.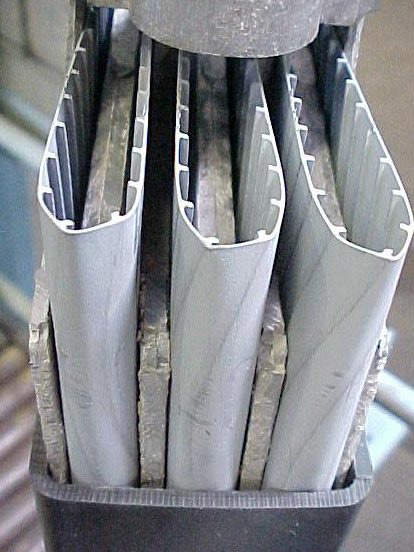 Sleeved separators on positive plates used in mining traction cells; sleeves ensure no missing separators and alignment of plates and separators, eliminating the possibility of mossing and short circuits.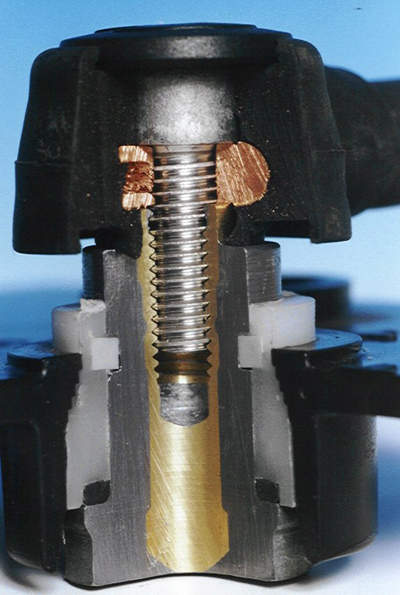 Perfect Seal® posts prevent acid seepage and brass inserts ensure maximum current availability. Lids are heat sealed to the container, thus ensuring a homogeneous bond.
Less frequent topping up
Lower maintenance
Reduced operating costs
Lower risk of overcharge during first-stage charge
Increased service life
All positive plates are fitted with sleeve separators as standard to ensure there is no mossing, which eliminates the possibility of short circuits.
Traction cells are fitted with Perfect Seal® bolt-on posts, which prevent acid spillage, and the lid is heat-sealed to the container for a homogenous bond. Cells are manufactured to either BS or DIN specifications.
Maintenance-free miners' caplamps
First National Battery is the largest industrial caplamp manufacturer in the Western world.
The company was the first to manufacture a maintenance-free lead acid caplamp and has produced more than four million lamps to date. These lamps are manufactured using AGM / VRLA technology and are spill-proof and extremely durable.
In 2013, First National Battery introduced lithium ion caplamps that are intrinsically safe and energy-efficient. The caplamps features:
Built-in intelligence
A patented optical reflector design to significantly improve peripheral lighting
Main light output that provides greater than 6,000 candela
Auxiliary light with an intensity of more than 2,400 candela
24 hours of high-beam lighting and 52 hours of auxiliary beam lighting from a 12 hour charge
A built-in microprocessor to regulate input voltage, prevent over-charging and control the LED voltage
A life span of around three years, from 800 to 1,000 cycles
Battery casing that allows the use of an RFID for easy location / tracking of miners in emergencies
– The RFID can have read and write compatibility to control lamps in and out of the shaft, and assist in shaft clearance of personnel
The TC2 model caplamp also has a pocket space large enough for electronic tags to be used in the mines for man-tracking and anti-collision detection.
First National Battery's miner caplamps are available in three models, namely the 4Ah lead acid batterypack, 7Ah TC1 and TC2 lithium ion battery pack with LED headpieces, all manufactured to comply with the requirements with statutory requirements of most countries.
The 7Ah TC2 lithium ion caplamp has a built-in pocket for electronic tags used for miner tracking, anti-collision detection and other such applications required by the mines and supplied by third-party companies.
TC lamps have been designed with cost savings in mind, hence they are compatible with all charging racks used by different mining houses.
All First National Battery's miner caplamps are fully maintainable by the end user, which results in reduced downtime and cost of ownership.
Environmentally friendly lead alloys, battery lids and cases
Environmental pollution from used batteries is increasingly being recognised. First National Battery is firmly committed to contributing to protecting the environment through a comprehensive recycling programme and has established a lead smelter capable of recycling more than 17,000t of lead a year.
The company produces high-quality lead alloys for its own consumption and the recovery of plastic polymers used in the manufacture of battery lids and cases.
Lead acid batteries and mining equipment
In pursuit of excellence, First National Battery has recorded the following quality listings and awards:
ISO 9001: 2008 – design, manufacturing and marketing systems, Buffalo View Road and Durban
ISO / TS 16949: 2009 – design, manufacturing, marketing and recycling of lead acid automotive and industrial batteries, and injection moulding of plastic components with product design and development, Settlers Way, Fort Jackson, Benoni
ISO 14001: 2004 – environmental management, Settler's Way, Buffalo View Road, Benoni
SANS – IEC 60254 – 2005 – lead-acid traction batteries
SANS 1438 – 2013 – portable light assemblies for use in underground mines
SANS 60896-1 – 2003 – stationary lead-acid batteries