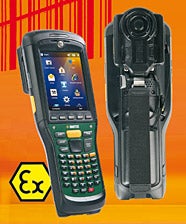 In cooperation with Motorola, BARTEC has developed the mobile computer series MC959xex-NI for use in potentially explosive areas. This device series excels by a high level of user friendliness and is based on the Windows® Mobile environment and real-time data exchange via WLAN, GSM or Bluetooth.
Due to modules that are integrated into the device, seamless transmission of voice and data is possible by means of easy integration into the corporate network. Further advantages are the easy-to-read 3.7" VGA colour display (TFT) with touch technology and a high-performance lithium-ion battery. In the MC 959xex-NI, the Marvell PXA320 processor with 806 MHz ensures fast process execution, and the operating system Windows Mobile 6.5 in connection with the Enterprise Mobility Developer Kits (EMDK) from Motorola ensures simple application development. Integrated into the device, a memory of 256 MB RAM and a 1 GB flash memory are available for saving user-defined applications and data. For larger applications and amounts of data, BARTEC offers micro SD memory cards.
As an innovative extension to the MC 959xex-NI, there is now an RFID snap-on module available. It can be easily plugged onto the external contacts of the MC 959xex-NI, and by means of the ergonomically attached scan trigger provides the possibility to capture both all common barcodes and also the RFID standards in the frequency ranges LF, HF and UHF by one-hand operation. No additional power supply is required for the RFID module. It obtains its energy from the scanner.