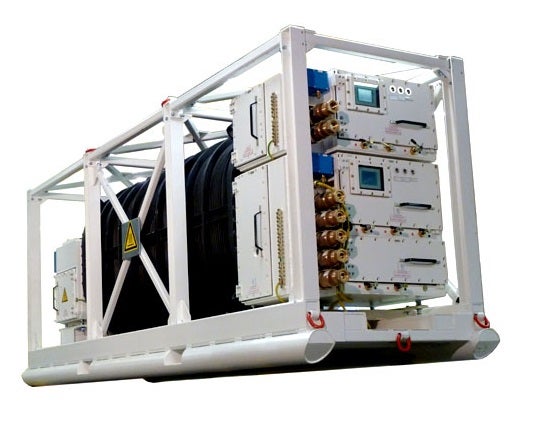 The Bartec Group is a leading provider of industrial safety technology, developing, producing and supplying equipment for hazardous and explosive applications. The company delivers machinery for use with combustible liquids, gases and dust, for the chemical, oil and gas, petrochemical, mining, pharmaceutical, energy and environment industries.
With an international network of ten production sites in Germany, Switzerland, the UK, Norway, Slovenia and China, as well as 28 sales units in Europe, America and Asia and more than 50 international sales partners, the Bartec Group is well-placed to offer high-quality services and support worldwide.
Electrical engineering for explosive applications
Bartec Sicherheits-Schaltanlagen (Bartec), Germany, manufactures internationally-approved switchgear solutions, and electrotechnic and electronic equipment for underground mining applications.
This includes the development, production, supply and installation of explosion-protected:

Bartec manufactures switchgear solutions and electronic equipment for underground mining applications.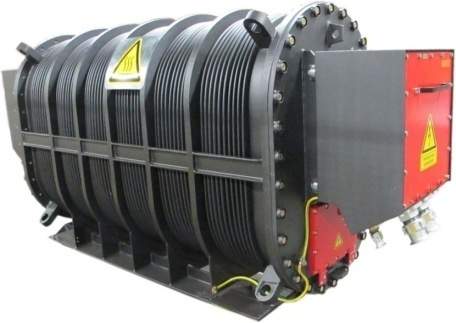 A high-voltage air-transformer with a transformer core.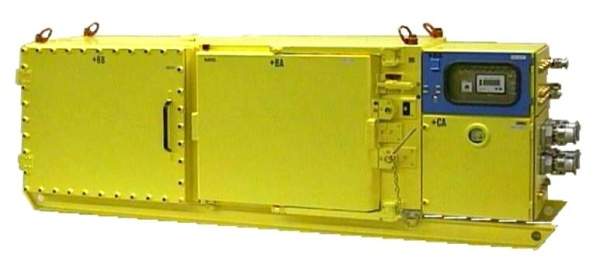 A BbD-type frequency converter with an indirect current link, up to 500kW, 3AC 1,140V.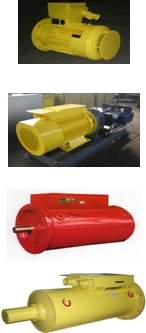 Bartec's three-phase motors come in either high or low-voltage models, and customised low voltage motors can be produced for special applications.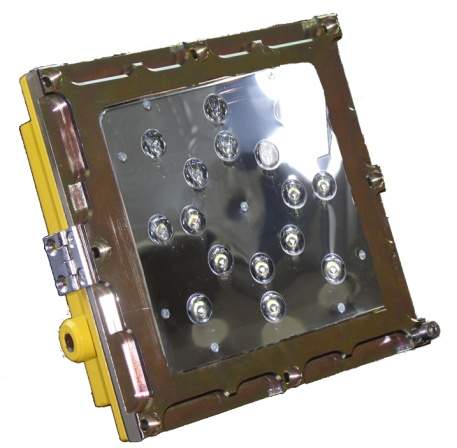 Bartec supplies various components and accessories such as module power supplies, terminal boxes and lamps.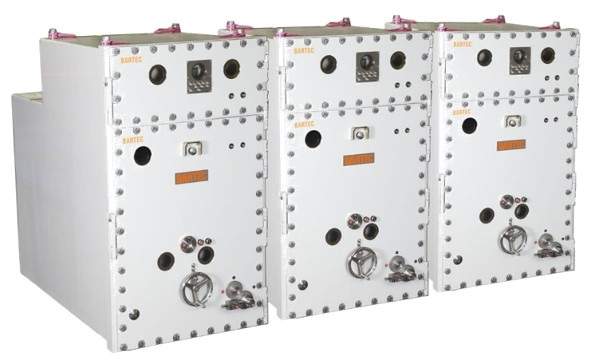 8SN7 is an Ex proofed switchgear for Zone 1 applications like offshore platforms for oil & gas and operates up to 11kV and 800A. Design is for outdoor use. Standalone installation or a group formation is possible. Optional accessories like base frame or canopy are available.
Transformers
Power distribution plants
Switchgears / control gears
Mining frequency converters
Motors for speed-controlled gears
Automation systems
Power distribution centres
Bartec supplies damp-protected high-voltage three-phase air-transformers in pressure-resistant housing, for equipment power supply in underground mining.
Transformers come with a three or five-wave core, in a low-maintenance, corrugated-pipe boiler, with a junction box designed for both high voltage and low voltage applications. Capacities range from 400kVA to 2,000kVA.
High-voltage components can optionally be combined with a circuit breaker / earthing switch, or a circuit breaker / earthing switch and high voltage contactor. Low voltage components can be combined with a circuit breaker including one or two outgoing feeders.
The centres can also include switchgears / controlgears as draw-out unit, including six pluggable draw-out vacuum-contactors, fuses, protection and control technology, status displays and fault indications.
Mining frequency converters
Bartec also provides fire-damp protected, low-voltage mining frequency converters for speed-controlled drive engineering, for operations in armoured-face conveyors, belt conveyors and coilers.
This equipment can also be used as current source converters for 4Q-operation (drive and brake in both rotating directions) or PWM-inverters for 2Q-operation (drive in both rotating directions). The converters are executed as a compact station for de-central erection.
Converters come with a rated shaft power of between 250kW and 500kW, BdD type for 4Q operation; or between 90kW and 630kW, VSD type for 2Q operation, and have a nominal voltage of 3AC1kV or maximal 1,14kV.
Bartec converters include intrinsically safe PROFIBUS-DP-AM (ATEX mining) and FSK-modulation data transmission, and frequency or speed regulation and torque control, with or without speed feedback.
Three-phase motors for undergound mining machinery
Bartec manufactures low-voltage three-phase motors for underground mining applications, including models with a rated voltage of up to 3AC 1,140V, an air-cooled engine output of between 0,25kW and 400kW. Models with a rated voltage of up to 3AC 1,140V are also produced, with a water-cooled engine output of 90kW up to 630kW.
Bartec also manufactures these low-voltage motors as special motors for frequency converter operations of up to 630kW, fans and mining machines, as well as equipment with powerful drives of up to 800kW.
A high-voltage three-phase motor is also produced, with an engine output of between 300kW and 1,800kW, a rated voltage of 3AC 3, 3kV up to 6kV, and is air or water-cooled.
Mining automation, net protecting modules, components and accessories
Bartec also designs, manufactures and supplies the following components and accessories:
Damp-protected mining controller with ETX-Board, CPU-Modul, communication modules
IKS-mini control system for integration in explosion protected housings with PROFIBUS and CANopen-devices
Decentral process modules (PROFIBUS AM-Ex, CANOpen Am-Ex) for connection with mining controllers or IKS-mini control systems
Module power supplies (single and multiple-power)
System components, interface components, signal former modules
Terminal boxes with a steel-plate housing
Polyester junction boxes for fibre optics
Net-protecting components, including overload relays, isolation and SL-components, earth-leaking relays, PTC resistor trip relays
I/O-systems including a PROFIBUS-device, Ethernet-network distributor with fibre optics net
Network cameras with integrated web-server for network connection
LED lights for longwall lights or head lamps
Bartec equipment is manufactured in compliance with QM – certificates DIN ISO 9001, ATEX 100a and IECEx.