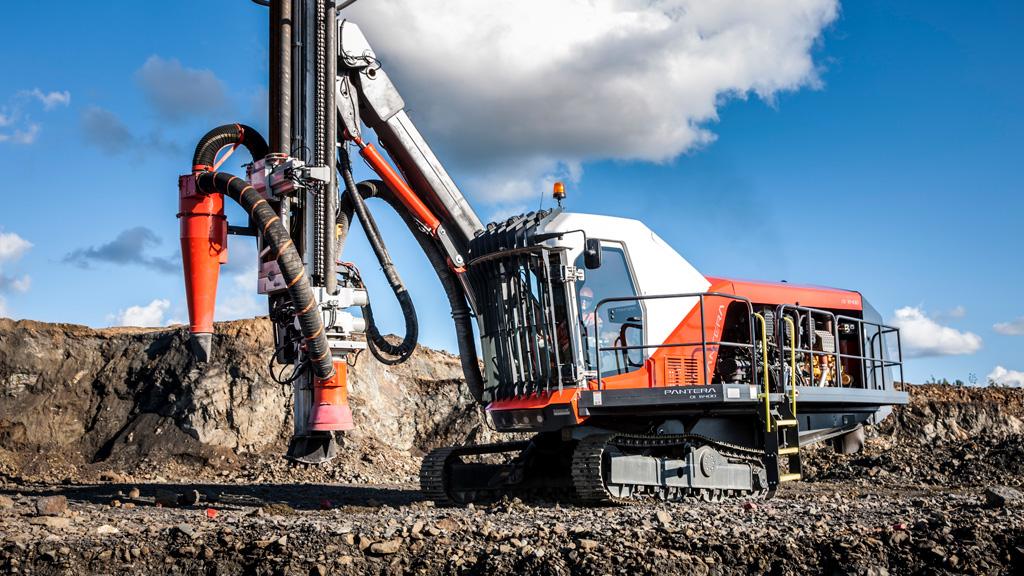 New Pantera is a robust and productive range of trackdrills designed with the environment, health and safety in mind.
With a weight of more than 34t and a width of 3m, the all-new Pantera trackdrills are built to stand their ground. They're based on a modular design with down-the-hole (DTH) and top-hammer (TH) versions, for blast holes, pre-split and mine development in the four-to-eight-inch segment.
Sandvik vice-president, mining, surface and underground production drilling equipment Jan Petzold said: "When we developed the specifications we identified three major stakeholders: the mining companies, the operators and the maintenance staff,"
Several things turned up on the short list: productivity, safety, ergonomics, sustainability and automation. The combination was demanding.
"It had to be a machine dedicated to mining and the future needs of the mining industry," Petzold said.
As a result, the Pantera range is designed for wall control, pit development and production drilling in open pit mines. With an industrial designer on the development team, the drills are a stylish addition to any fleet of mining machines.
Pantera DTH drills blast holes in diameters from 115mm to 203mm up to a depth of 45m. The TH Pantera handles blast holes in diameters from 152mm to 178mm up to a depth of 36m.
Looking more closely at the productivity of the Pantera range, much attention has been paid to uptime. This shows in the rugged design and choice of reliable components, but also in the layout of the engine compartment. Inside and outside galleys provide maintenance technicians fast and easy access to service points. With a roof height of 1.8m, there is enough space to walk around key systems such as the engine, hydraulics and pneumatics. During operation, however, everything is protected by large covers.
Another productivity-increasing feature is a new feed module. It is fitted with a linear magazine that accommodates up to five drill rods, which are longer than on earlier carousel models.
"This means you can drill longer between the rod changes, which are very time-consuming steps in a drilling operation," Petzold said.
The improved operator cabin's body-integrated canopy constitutes the roll-over and fall-over protection structure (ROPS and FOPS). The cabin is suspended under the canopy, which is certified for the weight of the machine and falling objects.
"This means we are not required to test the cabin itself any longer, and that allows us to use new components and materials," said Sandvik project manager Markus Reinikka.
"Historically, cabins are made out of steel. We have designed a structure of composite materials and aluminium."
The cabin is spacious enough for an operator and a trainer to sit comfortably together with a second student, when required. The composite material absorbs vibrations and noise better than steel, and offers better insulation against both high and low temperatures. An ergonomic operator interface and drill support system also contribute to improved productivity.
Both the DTH and TH Pantera rigs feature a fuel-efficient 399kW engine that complies with the latest emission standards. The range of drills is built on the same platform for both drilling methods but uses different types of power packs. The TH Pantera is fitted with a 45kW hydraulic rock drill, a drilling method with lower energy losses than DTH drilling. There the percussion comes from a pneumatic hammer just behind the drill bit. It is propelled by compressed air fed through the drill rods at a maximum air pressure of 35 bar.
While DTH drilling has higher inherent energy losses than TH, the DTH Pantera comes with a new sustainability package that allows fuel savings of up to 20%. The result is a substantial reduction of both costs and emissions, particularly in round-the- clock mining operations.
With the Pantera range, Sandvik takes operator training to a new level. In addition to the improved conditions in the cabin, the company has developed a simulator for the new drills.
"This increases safety, reduces the risk of damage and helps to improve the performance of the drill operator," Petzold said.
A simulator is also a tool to train the trainers and any operators who return from leave with their skills a bit rusty. In addition, the operator of the drill rig is supported by a high level of automation, including single-hole automation, automatic feed alignment and feed positioning. The automation also includes a drill health monitoring system and drill support system, the latter with GPS navigation as an option. It's possible to configure Pantera drills for remote operation.
All versions share the same platform, control system and automation infrastructure, which keeps the cost of training, maintenance and ownership down.
---
Image: The new Pantera is a robust and productive range of trackdrills designed with the environment, health and safety in mind. Photo: courtesy of Sandvik.
Sandvik Mining and Rock Solutions, together with Newtrax Technologies, is introducing the next generation of...