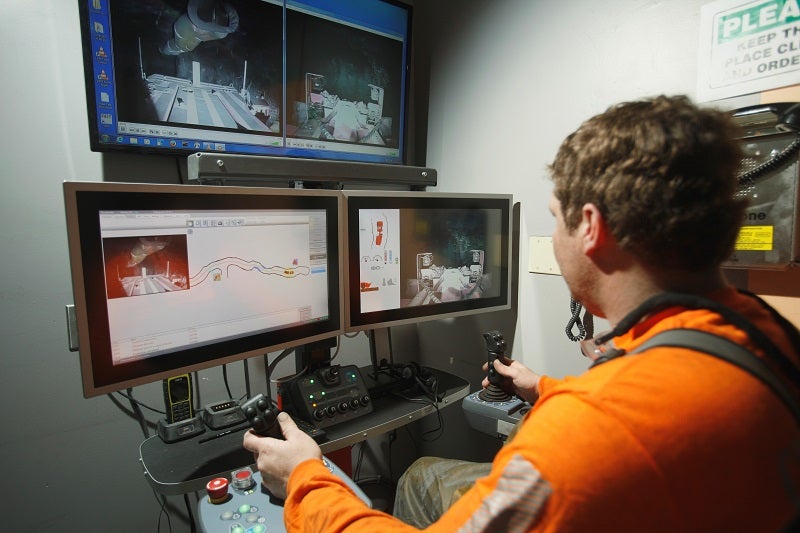 Hecla's Greens Creek silver mine in south-east Alaska is one of the largest and lowest-cost primary silver mines in the world. In 2016 Greens Creek produced 9.25 million ounces of silver, the highest silver production since Hecla acquired 100% of the operation in 2008.
The mine utilizes the latest technology for production and ensuring its competitiveness in ever-changing business situations. Sandvik AutoMine® Lite is used in production areas to enhance safety, accelerate underground efficiency and improve production numbers.
"Greens Creek commissioned the AutoMine system in January 2017," said Keith Malone, VP and general manager of the Hecla Greens Creek Mine.
"The start-up was flawless as Sandvik did a great job commissioning and training our engineers and miners to operate the AutoMine system. We have been able to increase mucking time by operating the AutoMine loader between shifts when personnel cannot be underground due to blasting activities. As we add wireless communication into additional work areas and a second or third remote loader is added to the fleet, we expect further gains will be realized.
The system is currently installed in two areas of the mine where bulk longhole mining methods are used.
"However, with 90% of our production coming from conventional drift and fill stopes, installing the AutoMine system in these areas is key to overall productivity gains," Malone said.
"We have just received two additional safety gates from Sandvik and are expanding our wireless infrastructure into these conventional stoping and development areas in order to maximize our productivity through implementation of this technology."
Hecla has a long term vision to increase the level of automation in its mines.
"This is truly a mutually beneficial relationship between Sandvik and Hecla, where both companies have put a plan together to work further with automation solutions," said Paul Painter, application and automation account manager at Sandvik Mining and Rock Technology.
"Sandvik is the world's leading provider of mine automation technologies with more than 200 automation-compatible equipment deployed worldwide. A growing number of other mines globally are showing interest in implementing Sandvik AutoMine® applications."
The Hecla Greens Creek Mine is located on Admiralty Island approximately 18 miles south-west of Juneau, Alaska. Opened in 1989, the mine produces silver, zinc, lead and gold, and is located within the Admiralty Island National Monument. The entire project is accessed by boat and served by 13 miles of road, and consists of the mine, an ore concentrating mill, a dry stacked tailings facility, a ship-loading facility, camp facilities and a ferry dock.
Sandvik Mining and Rock Solutions, together with Newtrax Technologies, is introducing the next generation of...