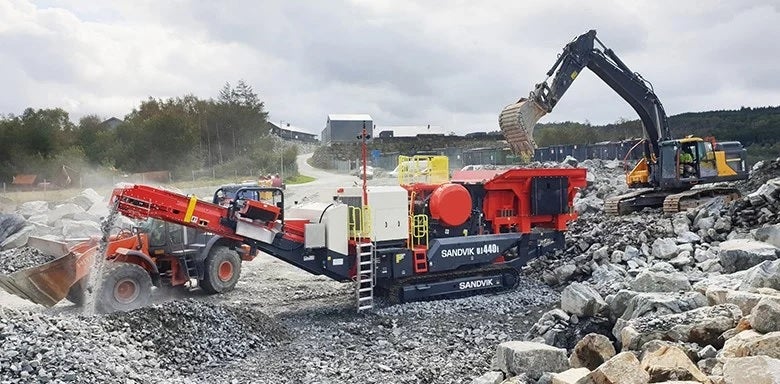 Sandvik Mining and Rock Technology will showcase several innovative solutions at CONEXPO-CON/AGG, which takes place in Las Vegas, USA, 10-14 March 2020. The focus is, as always, on new technologies and methods supporting customers to improve their safety, productivity and sustainability even further.
CONEXPO-CON/AGG gives Sandvik the opportunity to interact with customers from the global construction industry and introduce to them the very latest developments in technology and services. Some of the cornerstones of the extensive Sandvik offering of equipment and services will be on display, as well as promoted through the very latest digital technology.
For example:
Leopard™ DI650i drill rig, incorporating new drilling simulator and SanRemo Mobile
Leopard™ DI650i down-the-hole (DTH) drill rig is designed for demanding high-capacity production drilling applications in surface mining, as well as large-scale quarry applications.
In addition to the actual drill rig being on display, visitors will be able to try out its performance using the Leopard™ DI650i drilling simulator to guide them through the whole drilling process. Presented at the show for the first time, SanRemo Mobile is a mobile device-based connectivity solution for Sandvik surface drill rigs which transfers easily, quickly and cost-effectively drill plans, reports and other drilling data to increase operational efficiency.
All the rock tools you need
As a leading supplier of rock tools, Sandvik offers a full drill string from top to bottom, with high-quality drilling tools designed for reliability, performance and longevity. In addition to the supply of premium rock tools, Sandvik's range of added services and digital solutions support drilling operations to achieve the lowest total drilling costs – every day, all year round.
Also, within the Horizontal Directional Drilling (HDD) segment, industry leader Inrock provides products and services for customer applications such as oil and gas pipelines, water and sewer, telecommunications, electricity and alternative energy production and storage.
UJ440i mobile jaw crusher
Sandvik UJ440i is an intelligent, fuel-efficient and user-friendly mobile jaw crusher. It is a high-quality, robust and reliable unit that has proved itself capable of working throughout the world in all climate conditions.
The mobile jaw crusher's onboard integrated 'intelligence' system allows simplicity of operation, as the UJ440i is continuously and automatically monitored by the control system that operates the unit, enabling full optimization of production. Designed on a fully tracked chassis and operated via radio remote control, the UJ440i is fitted with the Sandvik CJ412 jaw, which offers great size reduction and consistent production, thereby maximizing uptime and more efficient operation.
Modular hanging screen
Also on display from Sandvik's mobile crushing and screening offering is the revolutionary modular double deck hanging screen, which connects to Sandvik QH332, QS332 and QI442 tracked crushers. Unique benefits of the screen include its ability to be quickly adapted for operation in open or closed circuit configurations, a patent-pending adjustment system that allows the screen to be quickly reconfigured to recirculate and produce a single sized finished product or two-sized finished product.
To provide visitors with an insight into the latest developments within Sandvik's mobile crushing and screening offering, this year's stand display will use augmented reality to enable users to view inside the equipment and take a virtual walkaround to experience the innovative features.
Cone crushers with Automation and Connectivity System (ACS)
The new Sandvik CH840i cone crusher comes with the Automation and Connectivity System (ACS) as standard, to continuously monitor and optimize crusher performance and control the complete lubrication system, increasing uptime and reliability.
Connected to My Sandvik, Sandvik 800i crushers enable managers and operators to make fact-based decisions and directly identify areas for improvement, increasing uptime and availability.
Circular motion screens
Sandvik's new SJ circular motion screen range is specially designed for extra heavy-duty, medium and fine screening applications.
This inclined screen range is ideal for screening after primary and secondary crushing, as a splitter screen to divide flows within a plant and for final screening of a finished fraction. With a wide variety of options and adjustability, the new screening range can be optimized to each application.
Learn anywhere, anytime
Digital Driller™ is a compact and flexible solution to safely train operators or maintenance teams on Sandvik underground drills DD422i, DD422iE, DT922i and DL421.
Digital Driller™ acts like a real rig, operating with authentic controls and combined with the same control system software as that installed on the actual machines. It is fully integrated with iSURE® software, a tunnel management tool for accurate drilling, charging and blasting plans.
Demolition and recycling
The latest hammer offering from Rammer Excellence and Rammer Performance Lines will be on display, as well as Rammer's purpose-developed RD3 remote monitoring device. RD3 uses the MyFleet Telematics service to track and monitor fleet equipment usage without needing to go to site to collect the data – ideal for dealers, rental companies and operators.
Rammer Cutter-Crushers, Pulverizers, Grapples, Shears and Multiprocessors are designed to perform a broad array of duties. Engineered for both primary and secondary applications, these attachments can cut, crush, segregate and pulverize a wide variety of construction materials to facilitate more controlled dismantling, effective recycling and material handling.
Leading productivity through digitalization
Sandvik Parts & Services deliver solutions to enhance the value, reliability and productivity at every stage of the machine's lifetime.
Sandvik's extensive network of trained service technicians is empowered with new digital services tools, global maintenance management system, fleet inspections tools and comprehensive competence platform. The organization's regional productivity and reliability centres around the world enable monitoring and remote services of the Sandvik fleet, supporting customers in all their operations.
Sandvik Mining and Rock Technology US sales VP Victor Tapia said: "At CONEXPO-CON/AGG, we will showcase a compelling offering of products and services, all designed to benefit our customers' bottom line in terms of increased safety, productivity and sustainability."
Visitors are invited to the Sandvik booth to view innovative products, experience our augmented reality presentation, meet members of Sandvik Mining and Rock Technology's team and dealer network and see the very latest developments firsthand.
Sandvik Mining and Rock Technology at CONEXPO-CON/AGG 2020 will be located at Silver Lot 1, booth number S-5249.