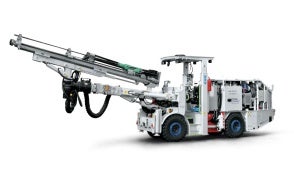 Tight spaces create challenges for equipment suppliers, especially when providing very good reliability, safety and productivity in limited area. Mine Master took this challenge and designed a new concept narrow vein drilling rig, which offers much bigger variety of utilisation the equipment.
Due to limited space in production headings, the kinematic of the working unit has to be ready for face drilling, as well as vertical long-hole drilling with quick reset of the feeder position.
The new Mine Master Face Master 2.5NVDR is equipped with well-proven design of heavy-duty two-axial rotary actuator, where changing the position from horizontal to vertical is extremely easy in limited area of tight heading. Additional dump cylinder improves the correction fore and aft movement during vertical drilling, match direction of vertical drilling in accordance with vein deposit.
Narrow dimensions of the machine may cause problems with stability during tramming and drilling, but this problem is also solved by other design ideas, proven on low profile machines. Central oscillated vertical main pivot changed the tyre load distribution and increase stability during tramming on uneven roads and headings.
Drilling process requires high stiffness of the carrier as can be achieved by rigid chassis, Mine Master implemented state-for-the-art solution, to convert flexible, oscillated carrier to rigid module.
Mine Master's new machine will be tested in the middle of the year in Kalgoorlie (WA).
---
Image: The Mine Master Face Master 2.5NVDR. Photo: courtesy of Mine Master.
Mine Master offers a wide range of self-propelled drilling rigs suitable for various heights and width of headings. Plus a range of optional features that...