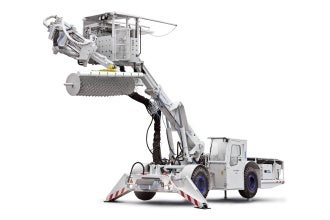 At the forthcoming EXPOMIN fair in Chile, Mine Master will present a completely new, innovative solution to the roof support designed especially for the Chilean market.
The new bolter is the result of co-operation between Mine Master, J.H Fletcher, HRI and the end user, Codelco.
The rig will be shown at the HRI S.A. stand, Mine Master's distributor in Chile, and visitors will be able to see a simulation of the rig working in a tunnel.
The new design allows the whole roof support process to be carried out by one machine in three steps: drilling of bolt holes, lining both side walls and roof with wire mesh (provided in roll) and cementing grouted bolts installation. The result is the significant reduction of time and cost involved as well as improving operator's safety.
The machine's features include:
Rotary – percussive rock drill, operated from the bolting stand as well as from the driver's cab
Ergonomic, closed air-conditioned cabin
CAN-BUS system
Roof-referenced mast, to drill bolting holes in one step; depth of drilling is 2.5m
Cement mixer with pump
Patented solution of mesh handler to handle wire mesh in rolls
Inch-tramming to move the machine from one row to another with simple preparation (fast set-up machine process)
Capability to carry out the bolting process in range headings between 4m x 4m to 7m x 7m
Until now, the roof support operation has required nine workers and four machines: one drilling machine with a telescopic feeder, one forklift mast, a cement mixer to install cement grouted bolts and, after five hours, the forklift mast is used again to install mesh. The total work time was more than ten hours, including at least five hours waiting for cement to solidify.
Thanks to the new concept, the whole procedure can be done using the one machine and two workers, one operator and one helper, reducing the total work time to less than three hours. The greatest advantage will be the use of cement grouted mechanical anchor bolts with expansion heads, allowing for the immediate installation of the mesh, thus considerable time saving.
---
Image: Mine Master will present the Roof Master rig at the EXPOMIN in Chile. Photo: courtesy of Mine Master.
Tight spaces create challenges for equipment suppliers, especially when providing very good reliability, safety and...