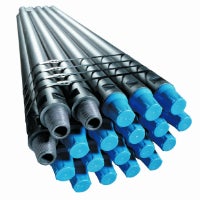 For our new pipe 76×4.0x3000 2 3/8 Reg, the whistle syndrome is now history.
This new pipe has improved resistance to wear, caused by turbulence created at the wrench flats, by an impressive 150%. In addition, improved internal design will boost the penetration rate and reduce the fuel consumption while drilling.
Driconeq Group offers a complete range of world-class drill string components for the mining, quarrying,...