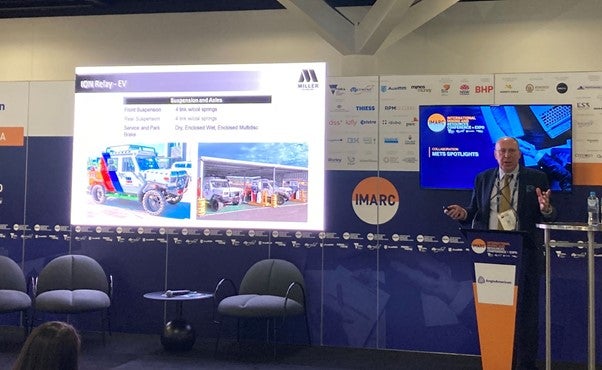 Dean Robinson MAICD from Miller Technology had the pleasure and privilege to speak at The International Mining and Resources Conference (IMARC) this month.
The overarching theme of the conference was the inevitability of electric vehicles (EVs) being adopted in the mining sector to eradicate Diesel Particulate Matter (DPM) and improve the environment.
It was highlighted that greenwashing, currently apparent in all sectors, must transition into action ahead of time. Otherwise, when mines and governments mandate the introduction of electric vehicles (EV) in mining, there will be a flood of orders and insufficient worldwide production capacity to satisfy demand.
The recommendation is for companies to initiate their ordering processes for electric vehicles (EV) and avoid compressing an entire industry's requirements into an unrealistic timeframe.
As a preeminent manufacturer of Light Duty Vehicles (LEVs) and graders for the mining sector, Miller Technology can deliver now, and support the industry's drive to a cleaner, healthier and safer future.
For more information, please contact us via the contact details on our profile.