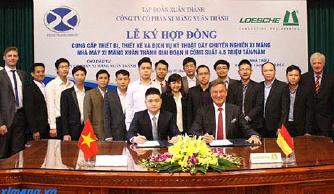 LOESCHE has won the order for the new cement grinding plant in Ha Nam. The customer is Xuan Thanh Cement Joint Stock Company, a private company group established in 1976 in Vietnam, with more than 30,000 employees.
In December 2015, Xuan Thanh Cement decided to invest in a new cement line from FLSmidth. Loesche, however, convinced them to qualify for the delivery of the cement mills.
After LOESCHE had already supplied a vertical roller mill for the first cement line in the same plant, Xuan Thanh JSC placed the order for the construction of the new grinding plants with two cement mills with LOESCHE once again.
During the signing ceremony, Mr Nguyen Xuan Thuy, general director of Xuan Thanh Cement JSC, thanked Dr Thomas Loesche on behalf of the Xuanh Thanh Group. The contracting partners discussed future developments and confirmed their interest in continuing to work together on a long term basis.
The challenge of this project for LOESCHE lies in the integration of the new grinding plants into a cement line, which is presently under construction.
The key elements of the scope of supply are two cement mills, type LM 56.3+3 CS.
In addition to the two cement mills, LOESCHE is also supplying further plant components, from the fresh material supply, the product filter and the mill fan, to the finished material transport to the product silos.
For the electric part and the automation of the grinding plants LOESCHE Automatisierungstechnik will be the supplier. Two hot gas generators type LF 20 L are designed to provide the product moisture guaranteed in case of kiln standstill. An extensive engineering package provided by LOESCHE will conclude the scope of supply and support the client best possible with all future challenges to come.
The cement plant Xuan Thanh is therefore fitted with state-of-the-art equipment in view of a low energy consumption and reduction of emission values according to the European standard. The lead time for the entire package is eleven months. Commissioning is forecasted for the second quarter of 2017.