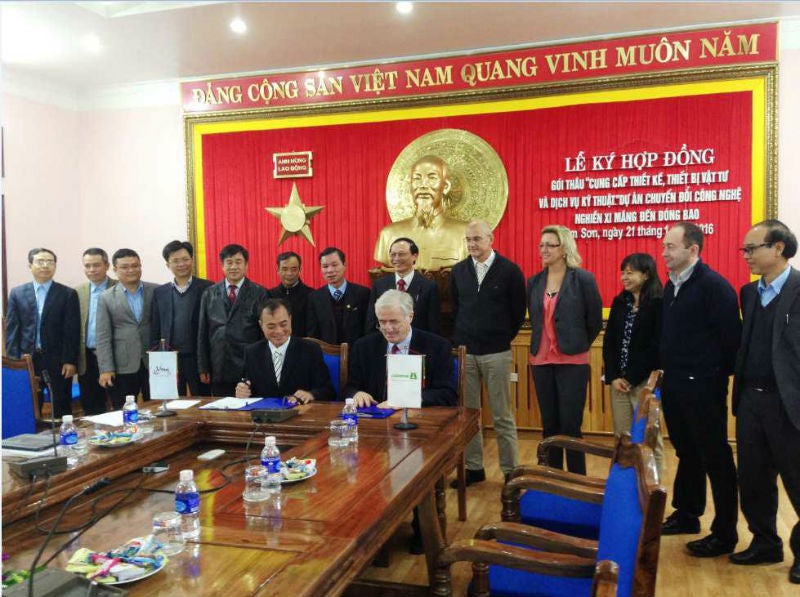 LOESCHE will soon be delivering a vertical roller mill for the grinding of clinker and granulated blast furnace slag for the Vietnamese company Bim Son Cement JSC. This supplements the existing Bim Son cement plant in the province of Thanh Hóa, the total capacity of which has recently been increased to 4Mt a year in several stages. The new LOESCHE mill with a throughput of 250t/h shall grind cement primary products into Portland cement clinker PCB 40. The ordered scope of supply includes a silo, blower, filter and a packing plant.
With the delivery of the new clinker mill, which is expected to be commissioned in August 2017, and the LOESCHE cement raw meal and coal mills already in operation, the Bim Son factory is fully equipped with the reliable and pioneering LOESCHE mill technology.
In addition to the advanced technology and the competitive price, the positive experiences with LOESCHE mills in the Bim Son factory thus far were decisive for awarding the contract to LOESCHE again: In 2000, the first LOESCHE mill at Bim Son was commissioned, A further raw mill and a coal mill followed in 2006.
Overall, LOESCHE is the market leader in Vietnam, having sold 35 mills. LOESCHE has been represented here since 1994, and since 2010, it even has its own representation on site. Both the sales activities and the processing of projects are supported from there.
Bim Son Cement, a subsidiary of the Vietnam National Cement Corporation (VICEM), is one of the biggest cement manufacturers in Vietnam. The company is predominantly active in the building materials industry and produces, imports, exports and processes cement, clinker and other building materials such as ready-mix concrete and prefabricated part modules.