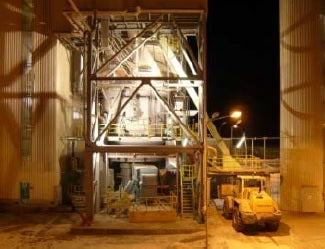 For the project 'Sivas 2 RM', the customer Tianjin Cement Industry Design & Research Institute (TDI) has placed an order for a type LM 48.4 LOESCHE mill for grinding cement raw material.
The proven mill for the grinding of cement raw material will be designed with a capacity of 420t/h and the material ground to a fineness of 14% R 90μm. The gearbox has a power output of 2,860kW. The engineering for the cyclone separators is also included in the scope of supply.
The lead time for the main components of the mill is eight months, while the gearbox will be supplied within the next nine months. The commissioning of the vertical roller mill is planned for the end of next year.
At Votorantim Cimentos Brasil SA, it is normal for all project-related and technical decisions to be made at the head office in Brazil. There has been a very good collaboration between Votorantim Cimentos Brasil SA and LOESCHE GmbH on a series of projects that have been successfully implemented and smoothly conducted for a number of years. These include the cement plants Rio Branco, Laranjeiras, Salto de Pirapora, Primavera, Edealina, Cuiaba and lots of others.
Due to the excellent and longstanding experiences with LOESCHE, for the project 'Sivas 2 RM' Votorantim Cimentos Brasil SA continues to rely on the proven grinding technology from LOESCHE.
As the end customer in the Sivas cement plant, Votorantim Cimento Sanayi ve Ticaret AS will also continue its successful collaboration with LOESCHE in Turkey.