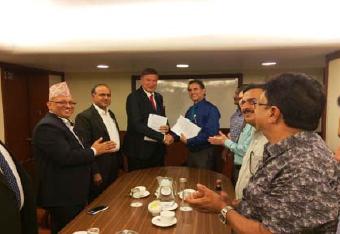 July 2016 is an important time for Loesche India, as the company has secured its first ever order in Nepal.
With this move, the company has set foot in a country where the cement industry is on the upswing. With one important order under its belt, Loesche India is now looking to further penetrate the market.
Shubhashree Agni Cement Udhyog has placed an order for Loesche Mill LM 35.2+2CS for the cement grinding section of their integrated plant (700t/d), which is under construction at Jaluke-6, district Arghakhachi, Nepal. The mill, designed for grinding Portland Slag cement will produce at a capacity of 62t/h, with a fineness of 3,500Blaine. The mill will also produce Ordinary Portland Cement and Portland Pozzolana Cement at capacities of 60t/h and 76t/h respectively. The mill shall be delivered in a period of ten months.
LM 35.2+2CS has been successfully operating at Deccan Cement, Bhavanipuram, since 2001 and has more recently been sold to Sri Balaha Chemicals for 100% slag grinding at 4,000Blaine for their Hindupur grinding plant.
Loesche India Private Ltd. has sold over 110 vertical roller mills for the grinding of raw material, coal, and cement to various clients in India and South Asia. The Loesche India team, located in Delhi NCR, is fully equipped to offer field services towards installation, commissioning, optimisation and troubleshooting. Loesche India also acts as a global engineering location for Loesche Group Companies.