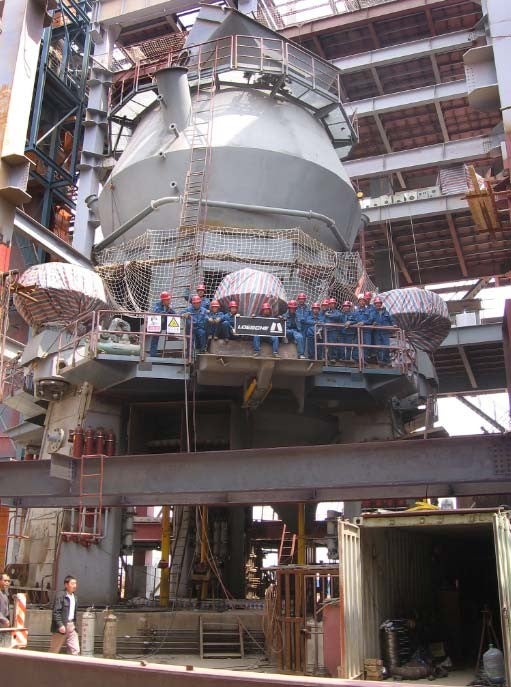 For the Aman Group cement works, Haria 2 in Narayangonj, 20km to the south of Dhaka, Bangladesh, LOESCHE has received the order to supply a LM 56.3+3 CS vertical roller mill. The roller mill has a production capacity of 240t/h Portland & Composite cement clinker with a fineness of 3,200 Blaine or 175t/h ground-granulated blast-furnace slag (GGBFS) with a fineness of 4,500 Blaine, as well as a drive power of 5,300kW. In addition to the mill, the scope of supply also includes additional technical equipment for the grinding plant such as rotary feed, two-way chute, metal detector and permanent magnet drum separator.
The contractor for this order is the China National Heavy Machinery Corporation (CHMC). One of the decisive reasons for placing the order with LOESCHE was CHMC's and Aman Group's satisfaction with the first LOESCHE LM 56.3+3 CS mill, already supplied in 2014 for the Haria Line 1, and further mills of this type, which have operationally proven themselves in other cement works. With the second LOESCHE mill, supplied in late 2016, the Aman Group plans to further increase the production capacity of its large 70,000m² plant from currently 10,000t a day, as Bangladesh currently has the worldwide lowest consumption of cement per capita but at the same time it is one of the most strongly growing markets globally. Therefore, the country increasingly imports clinker from China, Indonesia or Thailand.
However, the government now wants to increase Bangladesh's own cement production by a.o. increasing import duties, and thereby reduce the country's dependency on imports. The Haria cement works owned by the Aman Group conglomerate is to make a contribution in this regard. The Aman Group is represented in the areas of cement and steel manufacture, packaging, food, shipyards and the power plant industry. The plant is located in the 90ha Industrial / Economic Zone Narayanganj, which is planned to become the new economic hub of the country.