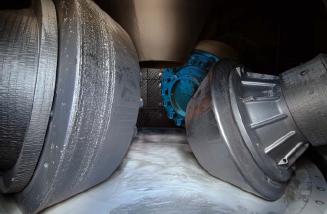 For the Hindupur grinding plant at Andhra Pradesh India, the customer, Sri Balaha Chemicals, has placed an order for a vertical roller mill, designed by LOESCHE. The mill, designed for grinding granulated blast furnace slag, will produce at a capacity of 50t/h and the material is ground to a fineness of 4,000cm²/g Blaine.
Included in the contract is further equipment such as mill fan, dampers, expansion joints, magnetic separator and metal detector. The lead time for the main components of the mill is ten months.
This order adds to the reference list of LOESCHE India Private (LOESCHE India), the subsidiary of LOESCHE in Delhi. The new client Sri Balaha Chemicals trusts in the experience of the team in the Delhi office, established in 1995, and decided in favour of the LM 35.2+2 CS. The same mill type has operated successfully in the Indian cement plant at Bhavanipuram since 2001.
LOESCHE India Private has sold over 100 vertical roller mills for the grinding of raw material, coal, and cement to various clients in India. LOESCHE India is engaged and fully equipped to handle the supply of vertical dry grinding plants for cement, steel, mineral and power generation industries. It was LOESCHE India to introduce a six roller mill for raw material grinding, the LM 69.6, for the first time in the world. LOESCHE India also introduced the LM 56.3+3 CS and the LM 63.3+3 CS, for clinker / slag grinding, for the first time in the world.
The team in Delhi is moreover fully equipped to offer field services towards installation, commissioning, optimisation and troubleshooting. In the LOESCHE India office an engineering hub is installed that supports LOESCHE subsidiaries in design and plant engineering.